High Quality Video Shooting
The Four Drive Lens System: Zoom with Incredible Image Quality
The camera is equipped with the Four Drive Lens System, where three zoom lenses and one focus lens are driven independently but simultaneously. Driving each of the four lenses individually enables reduction in lens size and drive range to achieve a reduced-size body with zoom of high image quality and magnification. Despite its compact size, the camera boasts optical 20x zoom and high performance, ultra-high-resolution 30x zoom.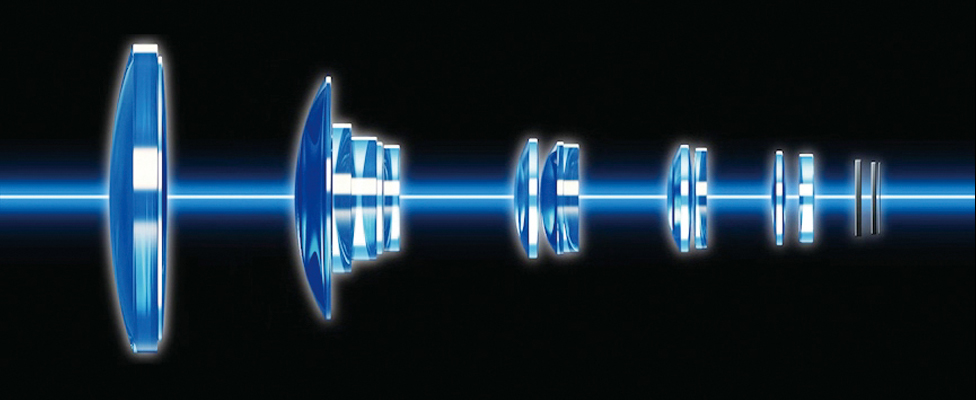 External Sync Signal Input Connector Plus Four Types of Output*1 Connectors: HDMI, SDI, USB and LAN
Full HD video output is enabled with HDMI, SDI, USB and LAN. The camera is also equipped with an external sync signal*1 input connector as well as BBS (Black Burst Sync) and tri-level sync. The camera enables flexible system construction ready to handle any purpose or environment.
Supported Formats with Each Output Connector
HDMI
1080/59.94p, 1080/50p, 1080/59.94i, 1080/50i, 1080/29.97PsF, 1080/25PsF, 1080/29.97p, 1080/25p, 720/59.94p, 720/50p
SDI
1080/59.94p, 1080/50p, 1080/59.94i, 1080/50, 1080/29.97PsF, 1080/25PsF, 1080/29.97p, 1080/25p, 720/59.94p, 720/50p
USB
1080/30p, 1080/25p, 1080/15p, 1080/12.5p, 1080/5p, 720/30p, 720/25p, 720/15p, 720/12.5p, 720/5p, 360/30p, 360/25p, 360/15p, 360/12.5p, 360/5p
LAN
For details, please see "List of Supported Multi-Streaming Outputs"
List of Supported Multi-Streaming Outputs (When IP output priority is selected)
Settings
H.264
JPEG
CH1
CH2*2
CH3*2
CH4*3
CH1
CH2
CH3
Resolution
IP selected
1920×1080
1280×720*2
640×360*4
1280×720
640×360
320×180
1920×1080*3
1280×720*2
640×360
320×180*2
Frame rate
IP selected
59.94 Hz
60/30/15/5 fps
30/15/5 fps
30/15/5 fps
50 Hz
50/25/12.5/5 fps
25/12.5/5 fps
25/12.5/5 fps
Bit rate
up to 24 Mbps otherwise
Voice transmission
Yes (AAC48 KHz)
PoE+
Yes
* Depending on the output mode, certain restrictions apply.
*1: External sync is through the SDI video signal. The HDMI and IP video signals cannot be synced.
*2: Settable when HDR is "Off".
*3: Settable when HDR is set to "Off" and the frame rate is other than 60fps (or 50fps).
*4: Not settable when HDR is "Off".
1/2.3-type MOS Sensor
Equipped with a 1/2.3-type MOS sensor and DSP (Digital Signal Processor) for high sensitivity and high resolution.
High Performance Optical 20x Zoom Lens/Super Resolution 30x Zoom
In addition to optical 20x zoom, ultra-high-resolution technology has enabled zoom of up to 30x while maintaining high resolution. The camera can also be set with 12x digital zoom*, or 1.4, 2.0, 4.0, 6.0 or 8.0 digital extender zoom.

* Picture quality is lower with the digital zoom.
Optical / Four-Axis Hybrid Image Stabilizer (OIS) for Shooting Stability
Image shake is reduced with both optical and digital 4-axis automatic stabilization that detects mounting surface vibration caused by audio equipment and opening/closing doors.
Night Mode
(Supports Automatic Switching)
Switching to Night Mode makes shooting possible even in low light conditions in which shooting is normally difficult, such as when observing wildlife*. The AW-HE42W/K can also be set to switch to the mode automatically depending on surrounding light levels.
* Video output is monochrome.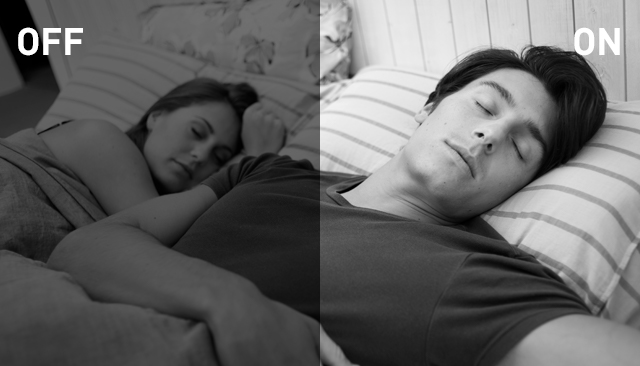 Equipped with High Dynamic Range (HDR) Mode
In addition to conventional Dynamic Range Stretch (DRS) and Digital Noise Reduction (DNR), the AW-HE42W/K is equipped with High Dynamic Range (HDR) mode. When shooting and synthesizing two images with differing exposure times, the AW-HE42W/K can create video with high visibility that corrects for halation and black defects even under backlit conditions.

Outputs Still Image During Preset Movements; Supports One-Camera Operations
The Freeze During Preset function enables to freeze the video during preset playback. The immediately preceding still image is output during preset movements so that the swiveling movement is not displayed, making operations possible with one camera.
With Freeze During Preset Function OFF and ON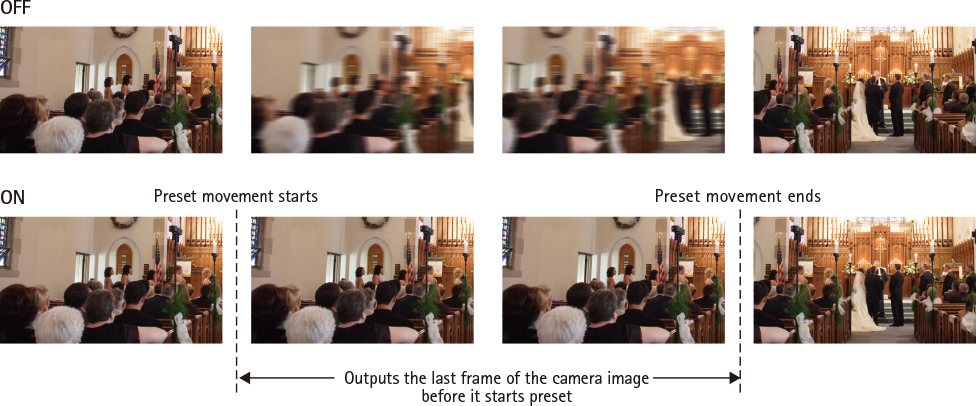 Audio Input Function
The AW-HE42W/K also supports audio input, embedding and encoding. Audio output to IP is also supported. The ALC (Audio Automatic Level Control) in the AW-HE42W/K can be switched ON/OFF and an equalizer function can be used. By reducing low-frequency sound from air conditioners, projectors, and other devices, it is possible to emphasize and increase the clarity of the spoken words.
MicroSD Card Recording Function*
Camera video and audio can be recorded in MP4 format on microSD card (sold separately) inserted into the unit. In addition, using an IP network, it is possible to externally control recording start/stop and download the recorded files.
Supported formats for micro SD (recording):
1080/59.94p, 1080/50p, 1080/29.97p, 1080/25p, 720/59.94p, 720/50p, 720/29.97p, 720/25p
* There may be instances where it is not possible to record in the same format as the output video.
Flexible IP Control
Full HD Video Output Via IP Transmission
IP transmission as well as HDMI, SDI and USB output are supported to enable IP video output of up to 60 frames per second. Multi-streaming output (H.264 streaming) of up to four channels*1 per camera and video transmission to up to 14 terminals are supported*2, enabling a variety of system layouts as needed for the application.

*1: 1920 x 1080 60 fps output is 1ch display only. For 2ch or more, display is max. 30 fps. Also, JPEG output is up to 3ch.
*2: Depends on your network environment.
NDI | HX Compatibility for Excellent Video Streaming Quality

* Power over Ethernet Plus, IEEE 802.3at
IP Control with Image Monitoring Using PC, Mac and Mobile Terminals
Using an IP browser, the camera can be controlled from a remote location, and IP video monitoring and remote camera control can be performed from a PC, Mac or mobile terminal such as an iPhone, iPad or Android device, enabling easy operations.
Camera control screen (Mac)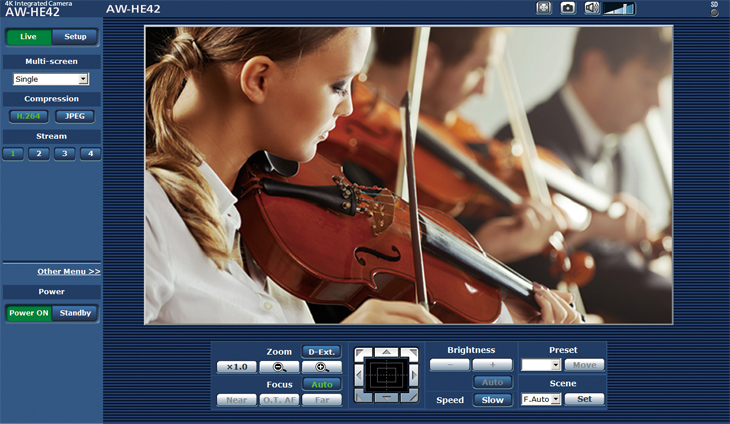 Live screen
Mobile Terminal Screen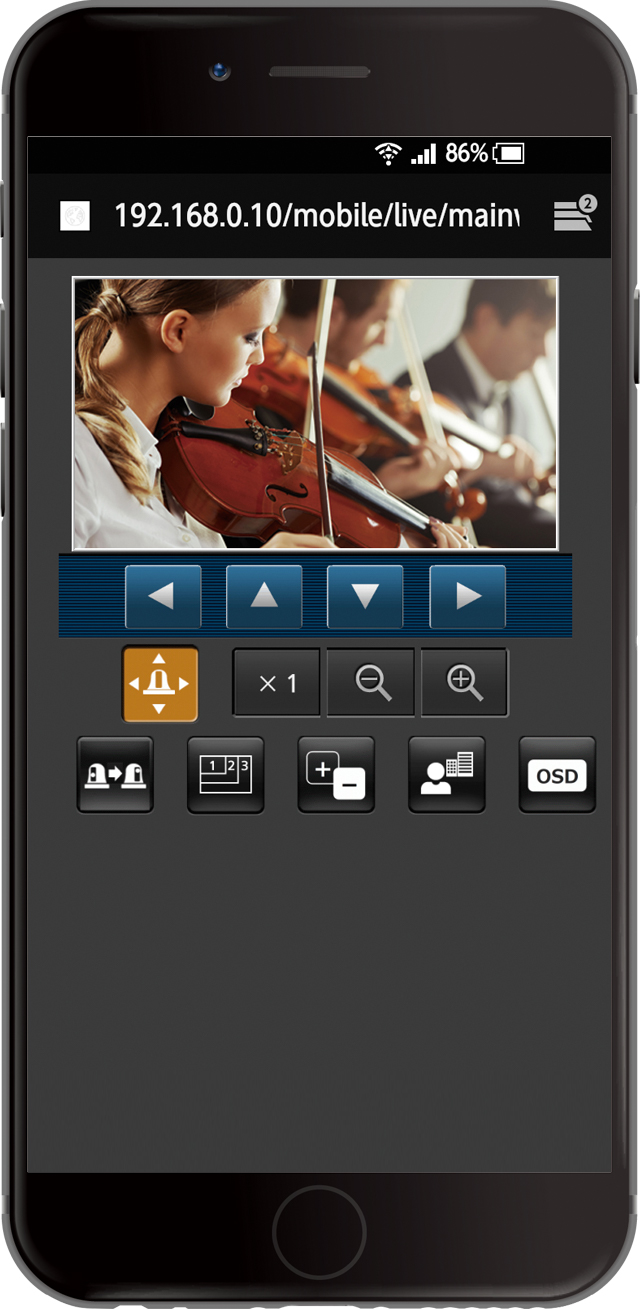 Various Functions
Other Functions
Equipped with a night mode for shooting with low light levels.
Equipped with an optical ND filter.
USB Video Class 1.0, USB Audio Class 1.0 supported.
PoE+ enabled for charging via a LAN cable.
Up to 100 AW-HE42W/K units can be controlled from a single Remote Camera Controller via IP connection.
Control of up to five Remote Camera Controllers is enabled for a single AW-HE42W/K.
Equipped with a RS422 remote terminal, serial control of up to five AW-HE42W/K units is enabled from the controller.
Preset memory holds up to 100 positions.
Freeze, color temperature settings, digital extender and other functions can be set to user assignable buttons of the Panasonic controller.
Equipped with the RS232C remote terminal (standard serials communication). Daisy chain connection enables control of up to seven AW-HE42W/K units.
Up to four AW-HE42W/K units can be controlled via wireless remote control (AW-RM50G, sold separately).
Equipped with a turn lock mechanism for easy installation.