What is NDI®?
Produce your shows in a completely new way —using all sources on the network, not just the video materials connected to the SDI video router. NDI® (Network Device Interface), developed by NewTek, is an open standard for connecting video devices over a network. With this NDI® technology, all NDI® compatible devices on the network, such as switchers, camera systems, and media servers, can be accessed from any device, allowing more sources to be used for live production than ever before.
In addition, the video source can be used from any device on the same network and is automatically recognized even if the IP address is unknown. This allows for a flexible production flow at the shooting site. In addition, NDI® compatible devices can be automatically recognized from any devices on the same network, even if IP addresses are unknown, which enables video production work flow to be more flexible.
Two types of NDI®
There are two main types of NDI®, High Bandwidth NDI® and NDI®|HX, both of which can transmit high quality video over IP. High Bandwidth NDI® is characterized by low latency IP transmission of high quality video, while NDI®|HX is characterized by efficient video transmission even with limited bandwidth.
High Band width NDI®
NDI®|HX
Compression system
NewTek's proprietary system


(low compression)

H.264 base


(high compression)

Bit rate
FHD 60p
125 Mbps
4-24 Mbps
Network equipment
(cables, routers, etc.)
Ordinary gigabit Ethernet environment
Standard 1-Gpbs Ethernet cable
Source: https://www.ndi.tv/about-ndi/
* NDI®|HX data is based on NDI®|HX Version 2. The AW-UE40, AW-UE50, AW-UE80, AW-UE100 (from Ver. 1.56) and AW-UE150 (from Ver. 2.94) are compatible with NDI®|HX Version2.
Panasonic's NDI® compatible models
Panasonic has prepared an extensive lineup of PTZ cameras, including the AW-UE100 and AW-UE80 and the AG-CX350 professional camcorder as NDI® compatible products, and the IT/IP platform KAIROS, the AV-UHS500 (with the NDI® I/F unit AV-UHS5M6G equipped), and the AV-HLC100 as live switchers so that you can get the most out of NDI®. The combination of Panasonic cameras and live switchers that are compatible with NDI® enables flexible video production using IP, from live events to online streaming.

* Please see the specifications on the product page for the compatibility status of each product with high bandwidth NDI® and NDI®|HX.
How is it useful?
NDI® is video production over IP that you can use now on standard gigabit IP networks. Traditional control rooms and video productions utilized multiple paths, proprietary hardware, and distribution cores. With NDI®, the network is your distribution and all video sources are available to all video destinations. No longer are you tied to physical limits of inputs and outputs, but rather the bandwidth of your network available to you.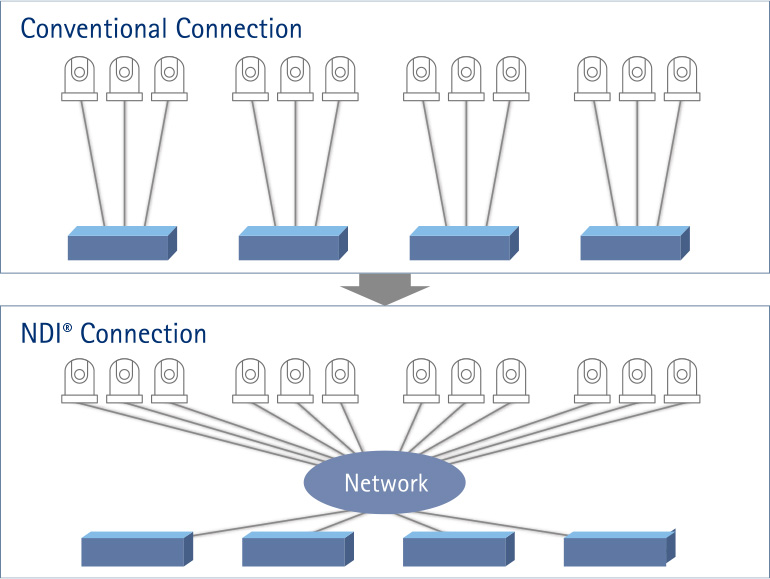 With NDI® Connection, a control room or multiple control rooms are all connected. All video sources are available to all video destinations without a separate cable. Simpler to connect, easier to deploy, offering even more production creativity!
Panasonic Technology
Single Cable IP Distribution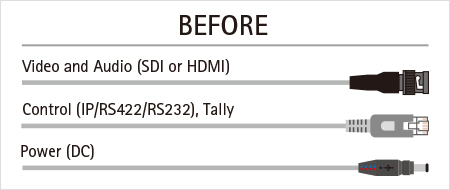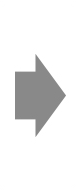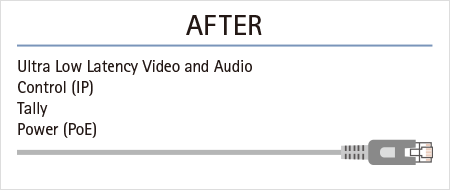 * Power over Ethernet Plus, IEEE 802.3at
Panasonic's PTZ cameras and NDI® technology will revolutionize live production
NewTek Technology
Automatic detection of video material
Supports high-efficiency NDI® transmission
Excellent low latency
Supports PTZ control and tally control
Realizes connection with a single LAN cable*1

Panasonic
Complete line-up of camera models with different sensor technology, optics, resolution, and interfacing.
Panasonic broadcast-level image quality with features like DRS*2, multi-axis color correction, and manual adjustment parameters.
The smoothest robotic and pan/tilt/zoom movement suitable for live "on-air" usage.
Dedicated IP controllers and software, such as the AW-RP150 and AW-RP60 joystick controllers, as well as the Remote Operation Panel (ROP) for shading are available.
Introducing redundancy - Simultaneous use of NDI® and baseband video (HDMI or HD-SDI) provides essential redundancy for production workflows.
Panasonic cameras with NDI®|HX support multicast mode, meaning you don't utilize extra bandwidth when multiple clients access the same stream.
Panasonic cameras feature an audio input. This means, audio can be injected and then embedded to your NDI® signal.
Equipped with a JPEG Image Saving function*3 that enables camera video to be saved, played back and deleted on a microSD card as still JPEG images.(AW-UN70W/K,AW-HN40HW/HK,AW-HN38HW/HK)
*1: The camera must be compatible with PoE to connect with a single LAN cable, and all Panasonic NDI® supported PTZ cameras are compatible with PoE.
*2: Dynamic Range Stretch
*3: Use may require a software version update.
System Configuration and Workflow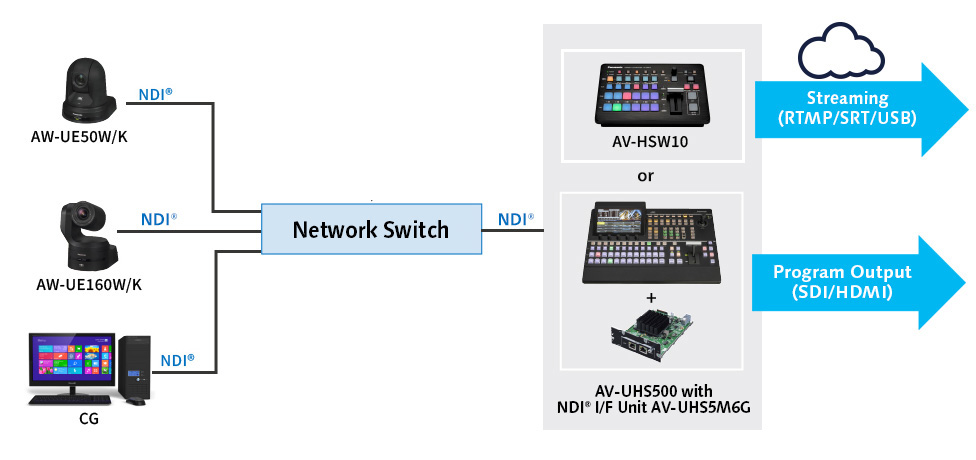 * PoE is required for NDI® connection.
Expandability with the use of NDI® Tools
By combining Panasonic's NDI® compatible products with NewTek's NDI® Tools, you can operate your NDI® workflow more flexibly and efficiently.
NDI® Webcam Input
Convert the NDI® source to USB Video Class and use it as input material for web conference software and lecture recording software.
NDI® Studio Monitor
NDI® source monitoring, easy control and recording are possible with PC software.
NDI® I HX Compatible Models
For information on the built-in NDI®|HX or upgradable Panasonic PTZ Camera,
refer to the Product Line-up page.
Case Studies
Broadcast Studio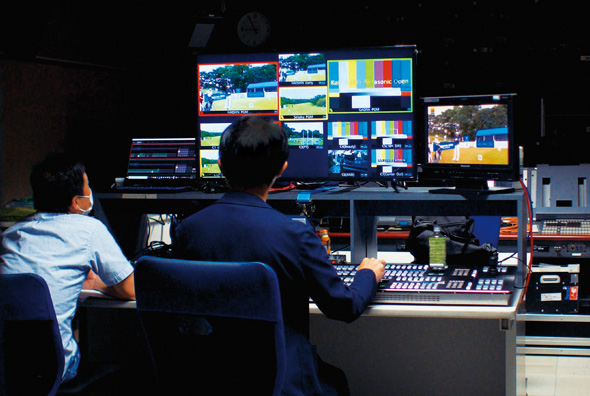 Product Category:
Country:

Japan
Update:

September 2021
Broadcast Studio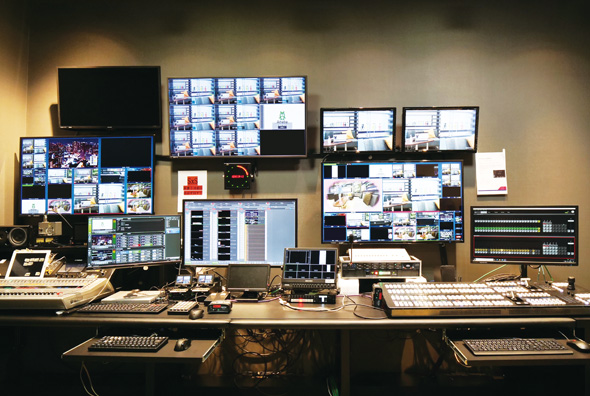 Product Category:
Country:

Japan
Update:

July-November 2021
Broadcast Studio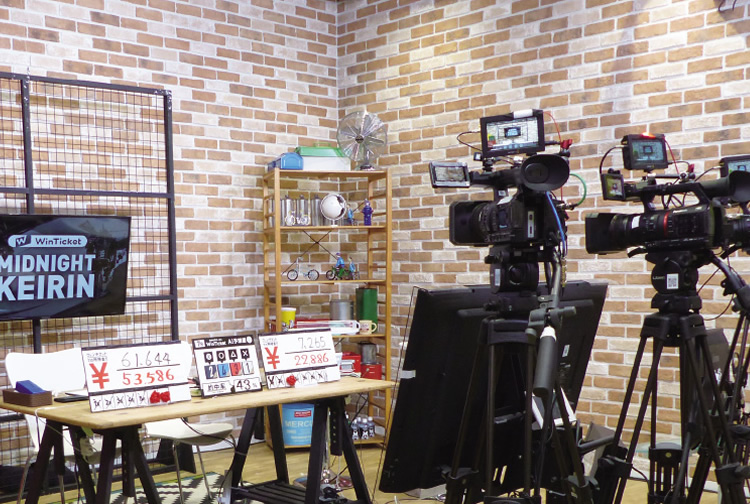 Installed equipment:
Product Category:
Country:

Japan
Update:

February 2020
Panasonic NDI® | HX Compatible Products
* NDI® is a new protocol developed by NewTek, Inc. that supports IP video production workflow.
* NDI® is a registered trademark of NewTek, Inc. in the United States and other countries.
* Please see the specifications on the product page for the compatibility status of each product with high bandwidth NDI® and NDI®|HX.