Achieving 4K Video Production with a Compact, Versatile Switcher
This feature-rich, multi-format switcher for 4K and HD productions extends Panasonic's legacy of producing high-quality, reliable switchers.
With its compact, integrated body, this live switcher is equipped with many functions found in high end models and delivers 4K video production with the same operability as HD.
In addition to fixed installations such as university lecture halls and corporate conference rooms, the AV-UHS500 is well suited for remote production. Designed for easy portability and simple set up it should become a favorite tool for staging and other event production.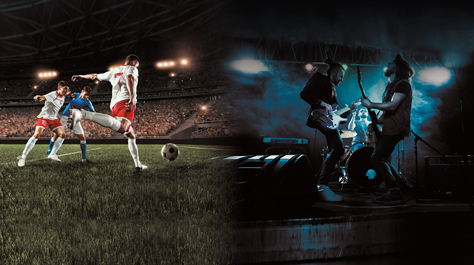 RELATED VIDEOS
Case Study

Introduction

Introduction @IBC2019
TUTORIAL VIDEO
Tutorial #1: OVERVIEW

Tutorial #2: PTZ CONTROL

Tutorial #3: I/O CAPABILITIES & EXPANDABILITY

Tutorial #4: HOW TO AUTOMATE YOUR WORK
BLOCK DIAGRAM / SYSTEM CONFIGURATION
Block Diagram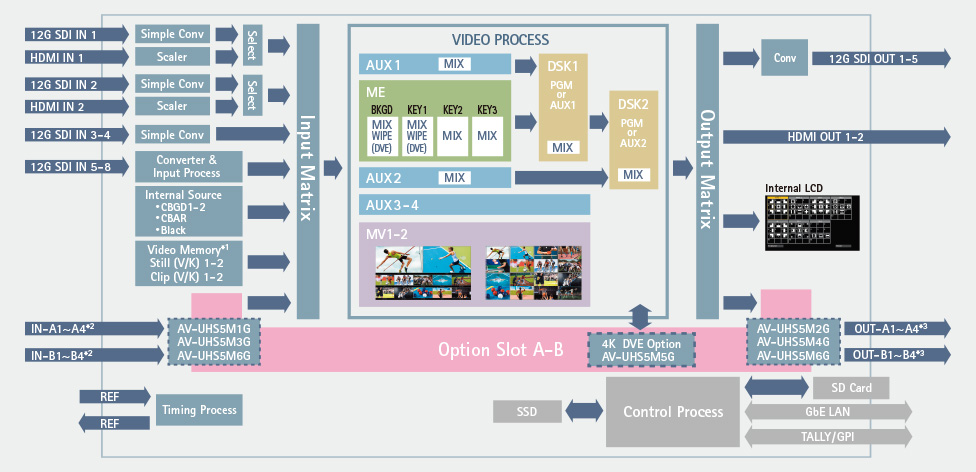 *1: 1 only for still/clip in 4K mode.
*2: A1-A3 and B1-B3 when the AV-UHS5M3G is attached.
*3: A1-A3 and B1-B3 when the AV-UHS5M4G is attached.
System Configuration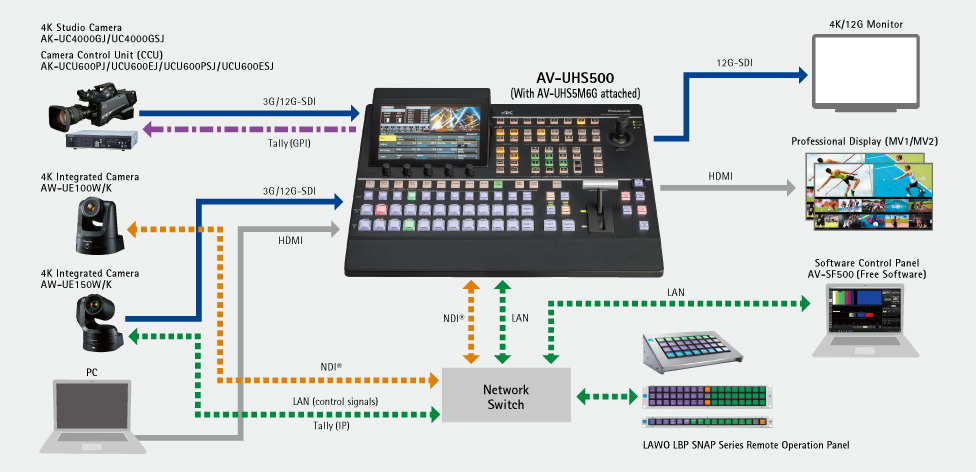 SDI Input Unit

AV-UHS5M1G

12G/3G-SDI x 4 inputs.
Frame synchronizer, up-conversion, color correction, SDR/HDR conversion and ITU-R BT.709/BT.2020 conversion compatible.

SDI Output Unit

AV-UHS5M2G

12G/3G-SDI x 4 outputs.
Down-conversion, HDR/SDR Conversion and ITU-R BT.2020/BT.709 conversion compatible.

HDMI Input Unit

AV-UHS5M3G

HDMI 2.0 x 3 inputs.
Scaler for each channel.

HDMI Output Unit

AV-UHS5M4G

HDMI 2.0 x 3 outputs.
Scaler for each channel.
SDI Input Unit

AV-UHS5M1G

12G/3G-SDI x 4 inputs.
Frame synchronizer, up-conversion, color correction, SDR/HDR conversion and ITU-R BT.709/BT.2020 conversion compatible.

SDI Output Unit

AV-UHS5M2G

12G/3G-SDI x 4 outputs.
Down-conversion, HDR/SDR Conversion and ITU-R BT.2020/BT.709 conversion compatible.

HDMI Input Unit

AV-UHS5M3G

HDMI 2.0 x 3 inputs.
Scaler for each channel.

HDMI Output Unit

AV-UHS5M4G

HDMI 2.0 x 3 outputs.
Scaler for each channel.

4K DVE Unit

AV-UHS5M5G

DVE function in 4K mode (background transition x 1, key transition x 1)
Lawo LBP SNAP Series
Remote Operation Panel

<LAWO AG>
Lawo LBP SNAP Series
Remote Operation Panel

<LAWO AG>
RESOURCES
SUPPORTS