Ultra-wide-angle & 4K Lens
High-Quality 4K/30p Video Output
Supports 3840x2160/30p 4K video output and a variety of other formats for use in a wide range of environments.
Output Format
4K
2160/30p, 2160/29.97p, 2160/25p
HD
1080/60p, 1080/59.94p, 1080/50p, 1080/30p, 1080/29.97p, 1080/25p
720/60p, 720/59.94p, 720/50p
* HDMI output requires PoE HUB or AC adaptor (5V/1A or more).
Ultra-Wide-Angle Lens with a 111° Field of View
Equipped with an ultra-wide-angle lens with a 111° field of view to capture every part of even the largest spaces and transmit wide-angle video in limited installation space.
The 111° Field of View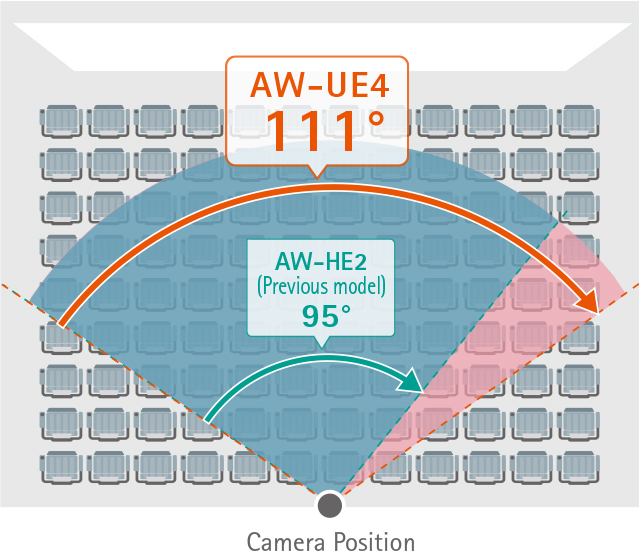 Digital Pan, Tilt and Zoom
Equipped with digital zoom for magnification up to four times to capture distant subjects clearly. Once images are zoomed in, digital pan/tilt is available, offering flexibility to shoot from different angles.

Flexible Operation
HDMI, LAN and USB output-compatible
On the back of the unit, there are three types of output connectors which are HDMI, LAN and USB. video output can be done not only via HDMI, but also via LAN and USB. This makes it possible to build a flexible system matching the specific objectives and environment.
* There are restrictions on simultaneous output.

Single Cable Solution
In addition to PoE*1 supply, power supply from a computer via USB cable is also supported to enable operation without connecting an AC adaptor, realizing a single cable solution for video transmission, camera control and power supply.
Using PoE Supply

Using as a USB Camera

*1: Abbreviation of Power over Ethernet.
*2: AW-RP60GJ connection support planned for the future. See the Panasonic website for more details. Use may require a software version update.
Direct Upload and Streaming of Video
RTMP/RTMPS*1
Supports RTMP/RTMPS*1 for direct upload and streaming of video on services such as YouTube Live or Facebook Live. Video can be uploaded and streamed directly from the camera to live streaming services.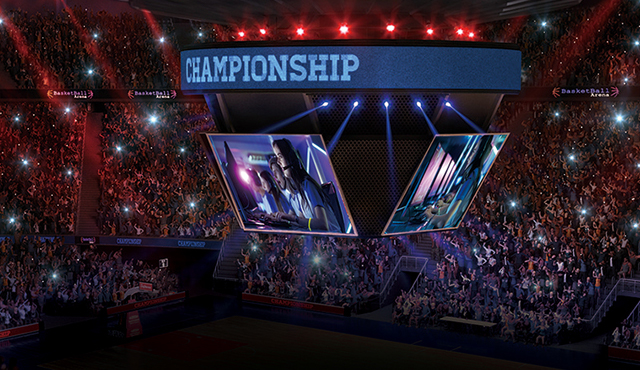 RTMP/RTMPS Connection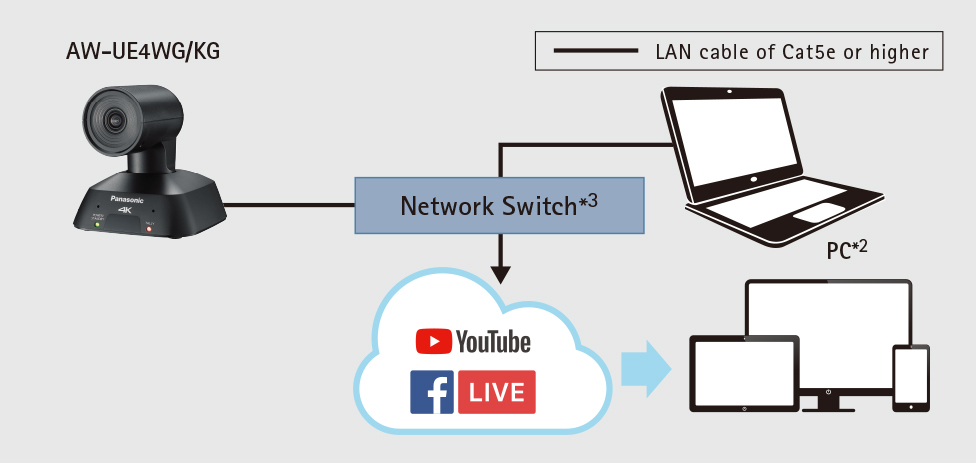 *1: RTMP: Real-Time Messaging Protocol, RTMPS: Real-Time Messaging Protocol Secure.
*2: A computer is required for connection to the streaming server.
*3: PoE support.