Interview with the Developers of the AW-UE160W/K
Behind The Scenes
"Interview with the Developers of the AW-UE160W/K" was released in April 2023. The purpose of this video was to introduce all of the appealing characteristics of the AW-UE160 PTZ cameras, which have the equivalent shooting capability as studio cameras. We planned to use only these cameras for shooting the interviews with a total of seven developers to demonstrate the capabilities of the AW-UE160. The cameraman and film crew, who usually use cinema cameras or studio cameras, had their first experience shooting with PTZ cameras. It was a challenge for them to adjust, but it was also a great opportunity to explore a new range of visual expression that only PTZ cameras can provide.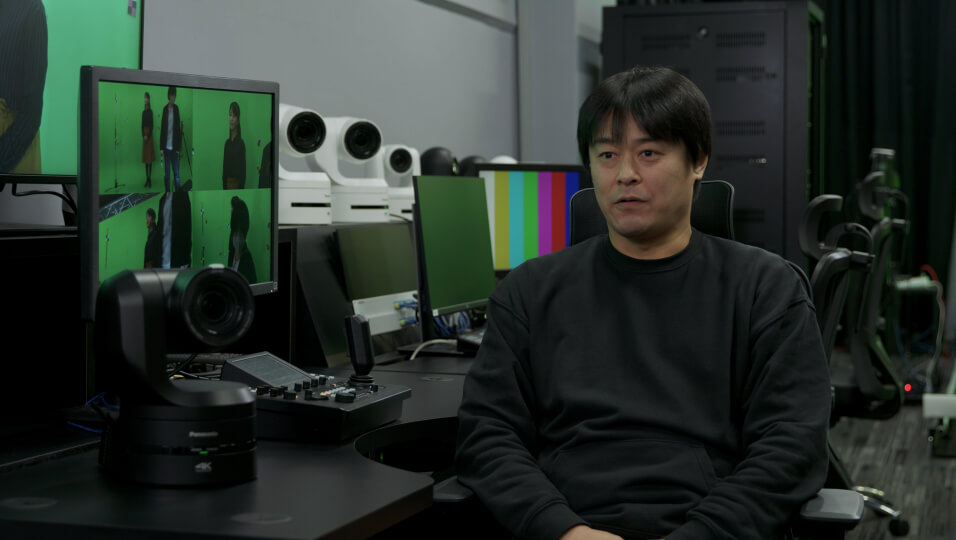 Masaru Kousaka
Cinematographer
Representative of Grand Movie, Inc.
As a cinematographer working on a wide range of video productions — including commercials, corporate promotional videos, movies, television shows, music videos, and web movies — Masaru Kousaka also uses a crane with a maximum height of 12 meters and drones for aerial shots.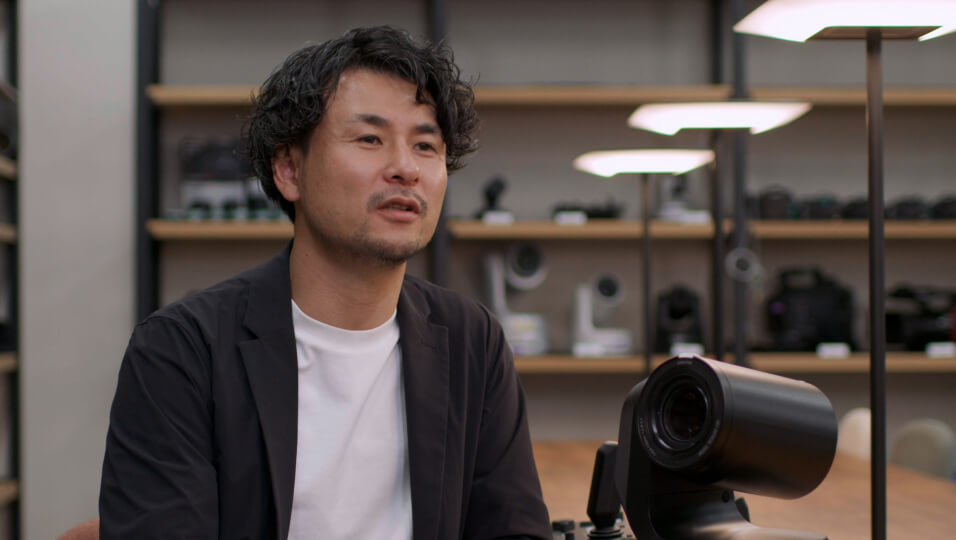 Katsutoshi Oishi
Director
B-Prime Corporation
Katsutoshi Oishi works as a director of video productions at B-Prime Corporation, a creative agency that offers a wide range of services that includes video production, website building, and system development.
---
A Challenge: Shooting Only with PTZ Cameras at a Small Location
For the production of the video, "Interview with the Developers of the AW-UE160W/K," we took on the challenge to let the cameraman shoot all seven interviews only using the PTZ cameras. He was able to shoot the video by utilizing the characteristics of the PTZ cameras and the particular strengths of the AW-UE160 on site where the space for shooting was quite limited.
Video footage before editing

Video footage after editing

Video shooting in a limited space
---
Stable Operability That Realizes Ideal Images of the Cameraman
The AW-UE160 is a new PTZ camera built to have the equivalent shooting capability as a studio camera while maintaining a compact size. Masaru Kousaka, a cinematographer and representative of Grand Movie, Inc., had previously only used PTZ cameras when he had no other option. He told us that his notion of PTZ cameras was changed after using the AW-UE160.
"My idea of PTZ cameras was that I could only use them with their limited preset configurations. I also thought that they would only be useful for continuous recording, and that I would just have to wait until the subject got into the frame. Using the AW-UE160 made me realize that was not the case. I was particularly impressed by the responsive operability of the AW-UE160, including focus and iris adjustments. It's so easy to operate, and I was able to capture images exactly the way I wanted — gentle close ups, soft starting moves, and subtle zooms. I could also set the speed to pan the camera and capture the exact angle of view that I wanted. I felt confident, as if the equipment was supporting my work. I also challenged myself to use the PTZ camera for dolly shots. It turned out that the camera's image stabilization system is quite good, so I got really stable footage."
Smooth and precise pans, tilts, and zooms

With Controller AW-RP150GJ, one operator controlled four cameras

AW-UE160 mounted on a dolly
---
Image Creation and Specifications Designed for Studio Use
Masaru Kousaka usually shoots with cinema cameras and studio cameras. So he was concern that a PTZ camera, which is different in usability from a studio camera, would make it difficult to shoot smoothly. However, using the AW-UE160, which was developed for studio use in terms of image creation and menu structure, has dispelled his bias against using PTZ cameras.
"The AW-UE160's color tone is light and has a wide range of adjustment. There are more and more situations where a cinematic quality is required, so the ability to shoot with editing in mind is really appealing. I think I can use the AW-UE160 with the cameras I normally use without any problems. The menu screens on other PTZ cameras for camera setup are limited, but the AW-UE160 has a similar menu structure to the cameras that I usually use. I think we can use the AW-UE160 for a wide range of purposes. The tally lamp on the rear panel is also helpful when controlling multiple units. Further, the AW-UE160 is compatible with many terminals. This means that I can use it for shooting, recording, and live streaming at the same time. I think this camera is very versatile."
Color tone has wide range for adjustment

Menu structure is right for studio use

Well-equipped rear panel terminals
---
PTZ Camera Enables Shoot with Less Crew in Smaller Space
Katsutoshi Oishi, a video director for B-Prime Corporation, also had reservations about using PTZ cameras for video production until he saw footage shot with the AW-UE160 on a location site.
"I had never thought of using PTZ cameras for video production in the first place. I knew that PTZ cameras are used for video distribution and recording at large-scale venues, such as live concerts and events, but I had no idea as to how expressive we could be using these PTZ cameras for creative video production. However, when I saw the images shot with the AW-UE160, I was first surprised and convinced by the high image quality and sensitivity. I was particularly impressed by the flexibility and versatility of the AW-UE160. It can be installed in small areas, where there is no space for people, or on platforms, such as a totem or tripod. So it gives us more options for angles and shots than before. The ability to operate multiple PTZ cameras with a single controller was another new discovery that we found useful for projects that have limited staff and budget. I believe that filming with the smallest number of onsite crew relieves pressure on performers and makes it easier to capture more natural footage."
One operator can control four cameras

Light weight makes it more stable, even on a tripod

Compact size fits on site without getting in the way
---
System Configuration Diagram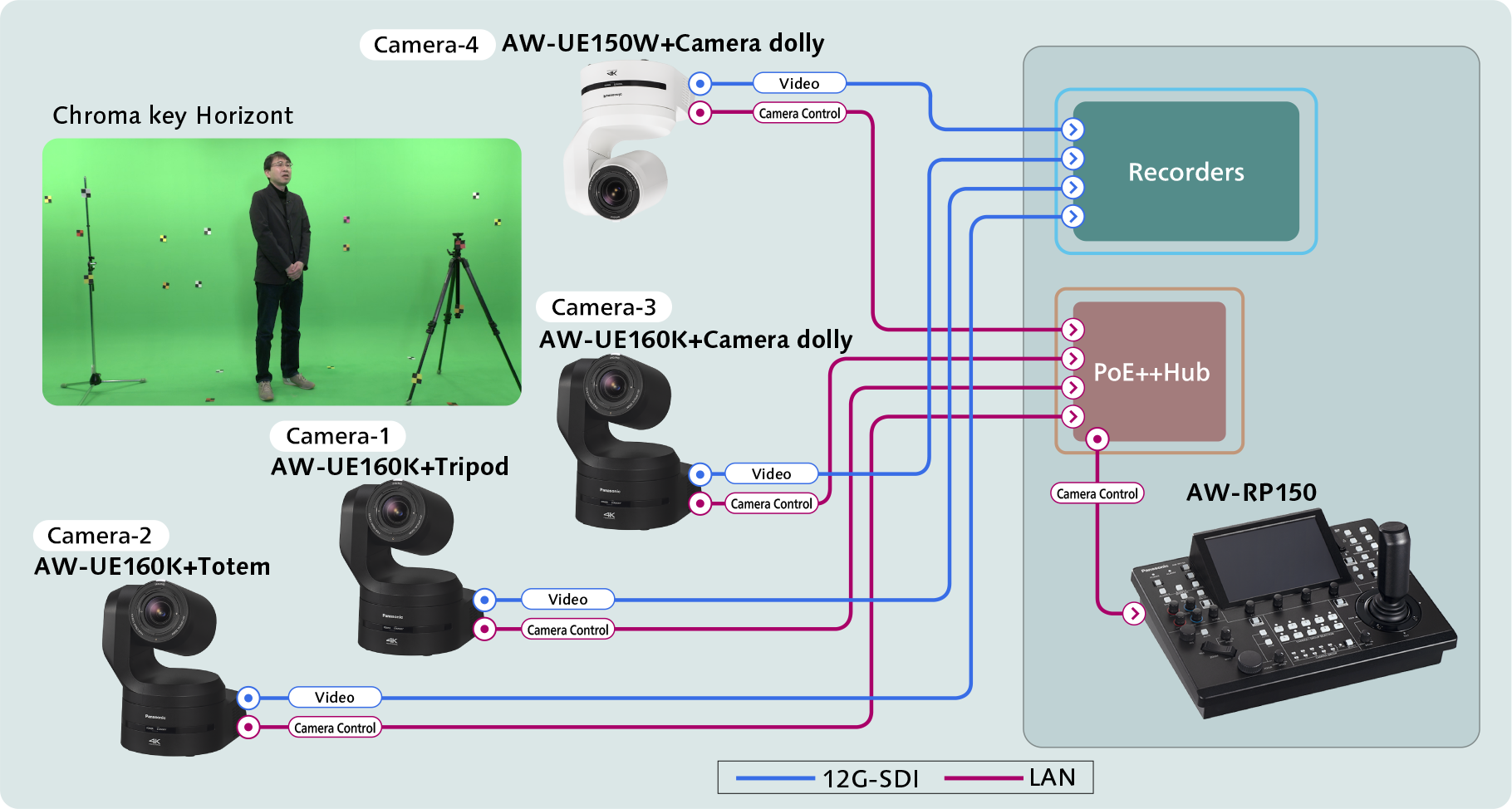 Related Links
Products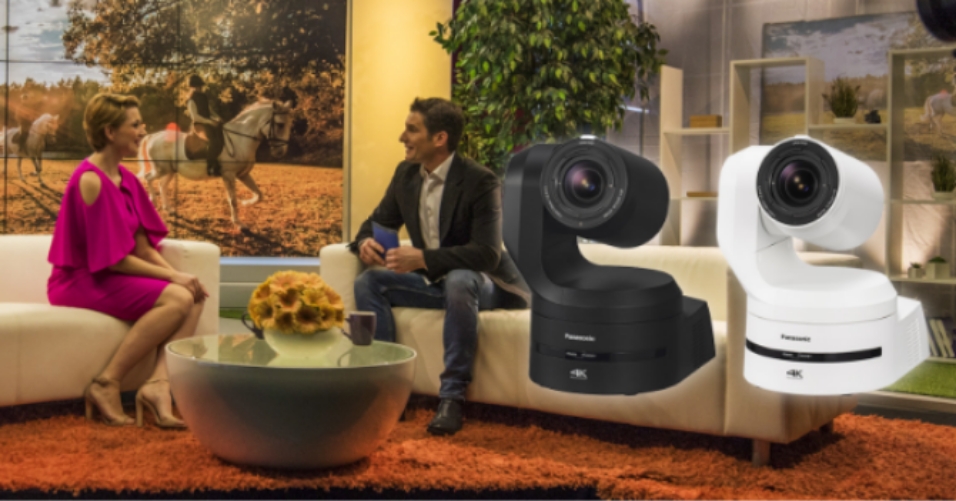 PTZ Camera Systems
4K Integrated Camera
AW-UE160W/K
4K PTZ Camera for an era of enhanced creativity and the pursuit of visual expression.