High-quality Recording
1/2.5-type (1/2.5-inch) Sensor
Increasing the readout speed has made it possible to handle large-volume 4K data at a fast 60 fps. This suppresses the rolling shutter distortion that often occurs when shooting moving subjects.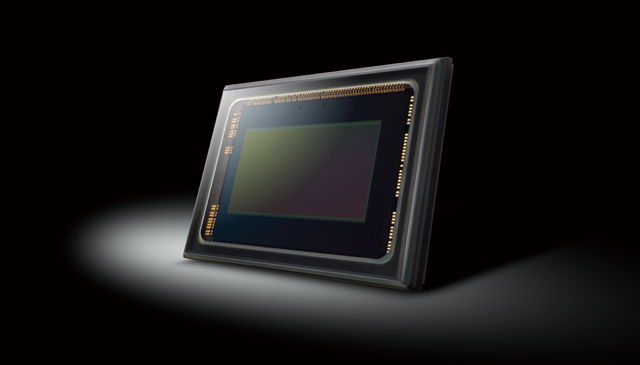 LEICA Dicomar Lens
This high-performance lens has passed the stringent inspection standards of Leica Camera AG for aspects such as resolution and contrast.
In addition to rendering sharp, crisp images, it produces the distinctive nuances and subtle shading that Leica lenses are renowned for.

Wide 25mm* and Optical 24x Zoom Lens
The lens covers the range from 25mm wide-angle to 600mm tele with a 24x zoom achieved by a 4-Drive Lens System.
* 35mm camera equivalent.
i.ZOOM 32x (UHD) / 48x (FHD)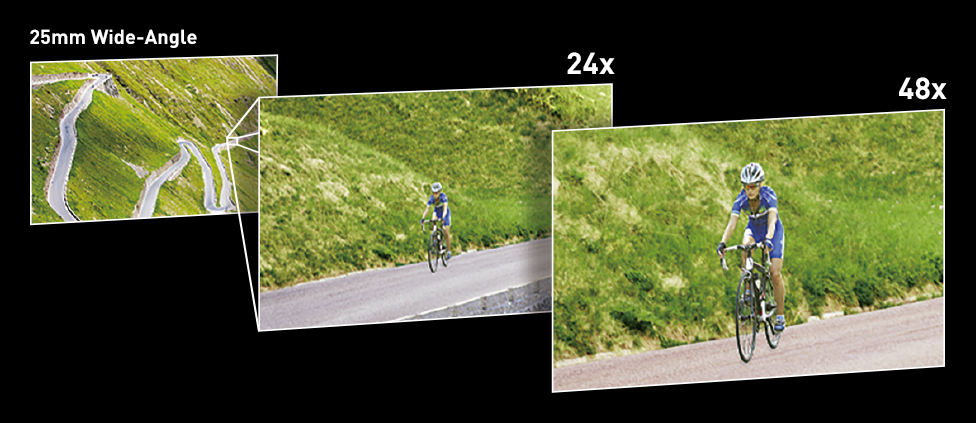 4K High-Precision AF
An image sensor with 60fps readout and a precise focus lens drive enable superior focusing speed, stability and tracking performance for both 4K and FHD. Complex 4K focusing is also automated for comfortable framing of stunning 4K shots.
Face Detection AF/AE Using Color
Face Detection precisely captures subjects on-site free from out-of-focus problems and insufficient exposure.
Also, by adding color recognition, tracking subjects is improved, without interruption, when the face moves to either side.

5-Axis Hybrid O.I.S. (UHD/FHD)
In both UHD/FHD modes, in addition to Optical Image Stabilization, Electronic Image Stabilization detects and corrects handshake in the 5-axis direction. This provides strong correction under unstable conditions, such as low-angle and high-angle shooting.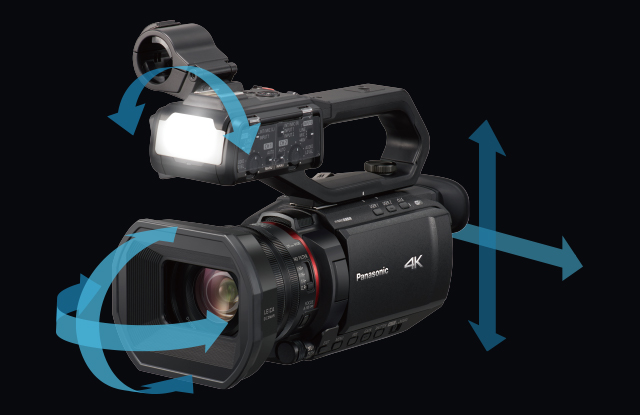 Ball O.I.S. System
This system reduces friction on the drive section, achieving delicate correction even for small-amplitude handshake.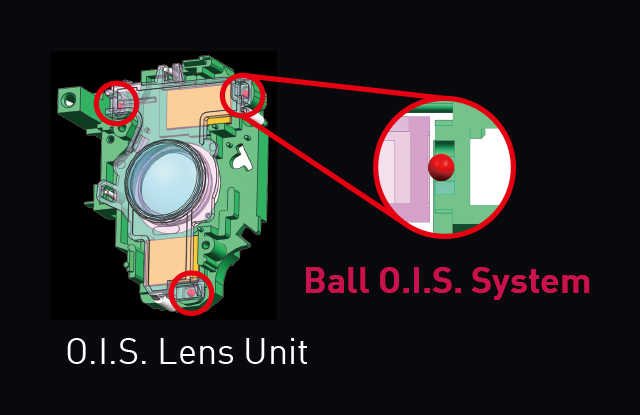 O.I.S. Lens Unit
ND Filter
ND filters are built into the lens to suppress the amount of incident light. The filters can be selected (1/4, 1/16, 1/64, or OFF) to match the shooting environment. This is convenient, for example, when you want to shoot at a slow shutter speed in bright daylight. Also, when opening the aperture, you can attain high resolution and a shallow depth of field.
High-resolution Image
ND Filter 1/16, F2.8
Slow Shutter Speed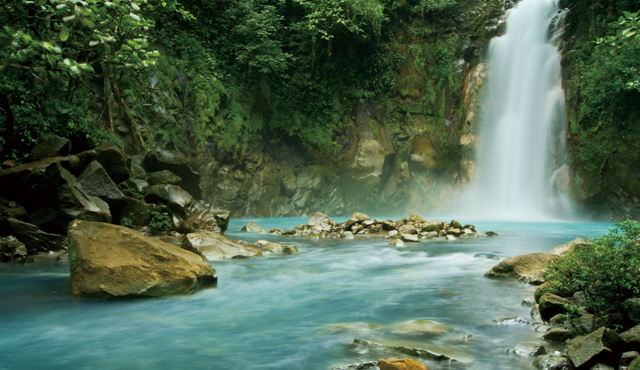 ND Filter 1/64
Heat-Dispersing Design
A new ultrathin fan disperses heat in the camcorder with integrated lens and 4K 60p recording. It is the industry's smallest and lightest unit with low power consumption.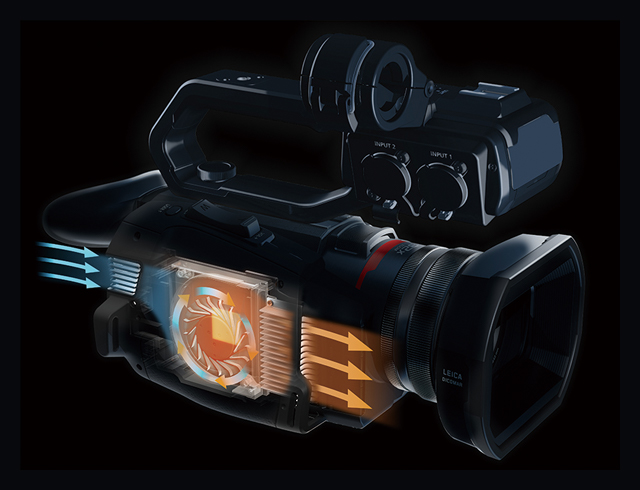 Venus Engine
The Venus Engine, which contains technologies accumulated with LUMIX, is newly incorporated in these camcorders. This enables 4:2:2 10-bit internal recording with maximum 29.97p in UHD, and maximum 59.94p in FHD.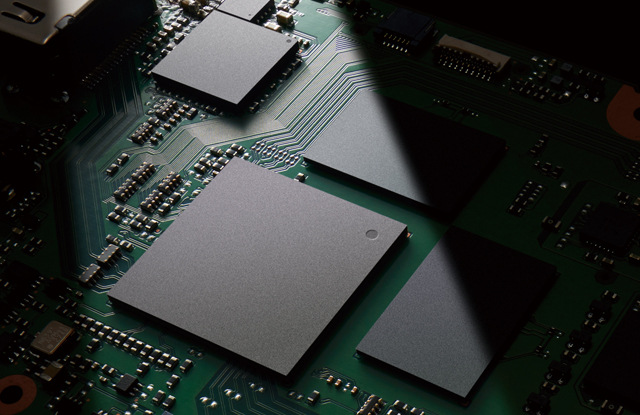 HEVC 4:2:0 10-bit Recording
Equipped with new, highly efficient codec HEVC recording.
High-bit rate recording with LongGOP 200M (59.94p, 4:2:0 10-bit, MOV) and LongGOP 100M (59.94p, 4:2:0 10-bit, MP4) is possible.
Multi-Formats Supported
Versatile formats and bit rates are available. In addition to easy-to-edit MOV and MP4, 720p AVCHD 8-Mbps (PM) mode is included.
Recording Mode
Recording Size
Color Sampling
Bit Depth
Bit Rate
Frame Rate
Sound
MOV
UHD
422 LongGOP 150M
3840 x 2160
4:2:2
10 bit
150M VBR
29.97p/ 25p/ 23.98p
24bit LPCM
HEVC LongGOP 200M
3840 x 2160
4:2:0
10 bit
200M VBR
59.94p/ 50p
24bit LPCM
HEVC LongGOP 150M
3840 x 2160
4:2:0
10 bit
150M VBR
29.97p/ 25p/ 23.98p
24bit LPCM
HEVC LongGOP 100M
3840 x 2160
4:2:0
10 bit
100M VBR
59.94p/ 50p
24bit LPCM
420 LongGOP 150M
3840 x 2160
4:2:0
8 bit
150M VBR
59.94p/ 50p
24bit LPCM
420 LongGOP 100M
3840 x 2160
4:2:0
8 bit
100M VBR
29.97p/ 25p/ 23.98p
24bit LPCM
FHD
422 ALL-I 200M
1920 x 1080
4:2:2
10 bit
200M VBR
59.94p/ 50p
24bit LPCM
422 ALL-I 100M
1920 x 1080
4:2:2
10 bit
100M VBR
29.97p/ 25p/ 23.98p/ 59.94i/ 50i
24bit LPCM
422 LongGOP 100M
1920 x 1080
4:2:2
10 bit
100M VBR
59.94p/ 50p
24bit LPCM
422 LongGOP 50M
1920 x 1080
4:2:2
10 bit
50M VBR
29.97/ 25p/ 23.98p/ 59.94i/ 50i
24bit LPCM
MP4
UHD
HEVC LongGOP 100M
3840 x 2160
4:2:0
10 bit
100M VBR
59.94p/ 50p
16bit AAC
HEVC LongGOP 72M
3840 x 2160
4:2:0
10 bit
72M VBR
29.97p/ 25p/ 23.98p
16bit AAC
420 LongGOP 72M
3840 x 2160
4:2:0
8 bit
72M VBR
29.97p/ 25p/ 23.98p
16bit AAC
FHD
420 LongGOP 50M
1920 x 1080
4:2:0
8 bit
50M VBR
59.94p/ 50p/ 23.98p
16bit AAC
AVCHD
FHD
PS
1920 x 1080
4:2:0
8 bit
25M VBR
59.94p/ 50p
Dolby Audio
PH
1920 x 1080
4:2:0
8 bit
21M VBR
23.98p/ 59.94i/ 50i
Dolby Audio
HA
1920 x 1080
4:2:0
8 bit
17M VBR
59.94i/ 50i
Dolby Audio
HD
PM
1280 x 720
4:2:0
8 bit
8M VBR
59.94p/ 50p
Dolby Audio
P2
(MXF)
FHD
AVC-Intra100
1920 x 1080
4:2:2
10 bit
100 Mbps (59.94i)*
59.94i, 50i
24 bit /16 bit LPCM
AVC-LongG50
1920 x 1080
4:2:2
10 bit
50 Mbps (59.94i) (VBR)
59.94i, 50i
24 bit LPCM
AVC-LongG25
1920 x 1080
4:2:2
10 bit
25 Mbps (59.94i)* (VBR)
59.94p, 50p, 59.94i, 50i
AVC-LongG12
1920 x 1080
4:2:0
8 bit
12 Mbps (59.94i)* (VBR)
59.94p, 50p, 59.94i, 50i
16 bit LPCM
HD
AVC-Intra100
1280 x 720
4:2:2
10 bit
100 Mbps (59.94p)
59.94p, 50p
24 bit /16 bit LPCM
AVC-Intra50
1440 x 1080
4:2:0
10 bit
50 Mbps (59.94i)
59.94i, 50i
960 x 720
4:2:0
10 bit
50 Mbps (59.94p)
59.94p, 50p
AVC-LongG50
1280 x 720
4:2:2
10 bit
50 Mbps (59.94p) (VBR)
59.94p, 50p
24 bit LPCM
AVC-LongG25
1280 x 720
4:2:2
10 bit
25 Mbps (VBR)
59.94p, 50p
AVC-LongG12
1280 x 720
4:2:0
8 bit
12 Mbps (VBR)
59.94p, 50p
16 bit LPCM
* The bit rate increases to two times when recorded in 59.94p or 50p.
Proxy Rec Supported
Proxy rec is available. AVC-Proxy G6 mode is included.
Proxy Rec Format
File
Format
Main Rec Format
Proxy Rec Format
Line
Frequency
Video codec
Line & frequency
Video sample
Video codec
Audio
P2
1920x1080
59.94/50.00p
AVC-LongG25(1b)
1920x1080_59.94/50p
4:2:0 8bit
AVC-G6 12Mbps
AAC 2ch 48kHz 16bit
59.94/50.00i
AVC-Intra100(atom)
1920x1080_59.94/50i
4:2:0 8bit
AVC-G6 6Mbps
AAC 2ch 48kHz 16bit
AVC-Intra50(atom)
AVC-LongG50(1b)
AVC-LongG25(1b)
1280x720
59.94/50.00p
AVC-Intra100(atom)
1280x720_59.94/50p
4:2:0 8bit
AVC-G6 6Mbps
AAC 2ch 48kHz 16bit
AVC-Intra50(atom)
AVC-LongG50(1b)
AVC-LongG25(1b)
* When "File format" is "MOV", "MP4", "AVCHD" and "AVC-LongG12", proxy rec is not possible.
4:2:2 10-bit Internal Recording / HDMI Output
Records a 4:2:2 10-bit color profile of up to LongGOP UHD 29.97p/25p (150 Mbps), or FHD 59.94p/50p (100 Mbps) with SD cards. When set for 10-bit recording, the camcorder delivers 4K 60p 4:2:2 10-bit HDMI output, enabling high image quality capture with an external recorder.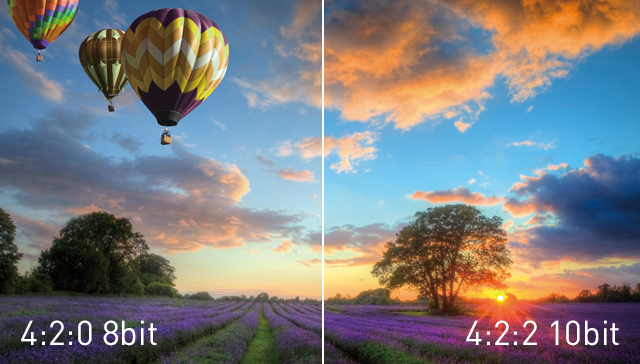 MOV File System for Excellent File Management
The same file system as that used with the AG-CX350 Professional Handheld Camcorder will automatically create filenames 20 characters in length for easy control of clips. Conventional AVCHD acquisition is also supported.
Super Slow-motion Recording
In FHD mode, slow-motion recording at 120 fps (for 59.94 Hz)/100 fps (for 50 Hz) is possible. 10-bit recording is supported, and full-frame images with the image area uncropped are obtained even at high frame rates. Auto focus can also be used even during Super Slow-motion Recording.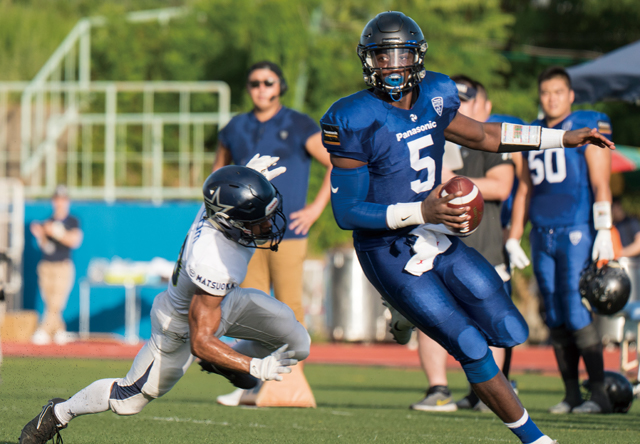 IR (Infrared) Shooting in Dark Places
The IR Cut Filter can be turned ON/OFF (allocated on the User button). When the filter is turned OFF, commercially available IR lights* can be used for shooting in dark places.
* Recommended: 850-nm wavelength light.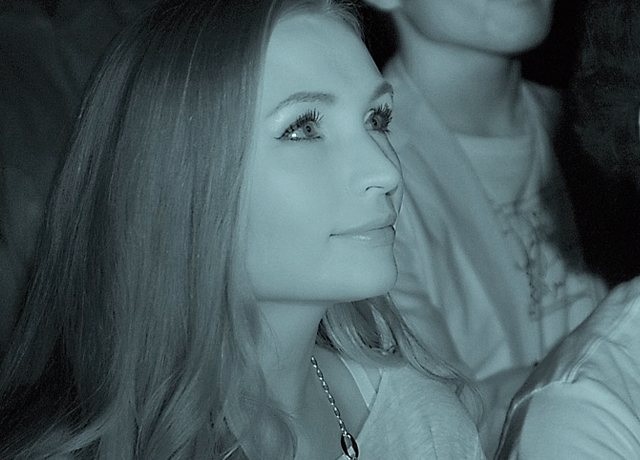 16-Axis Independent Color Correction Function
This function provides an independent effect to each of the 16 phases of video images. It enables color matching of multiple cameras under the same lighting conditions as well as creative image rendering.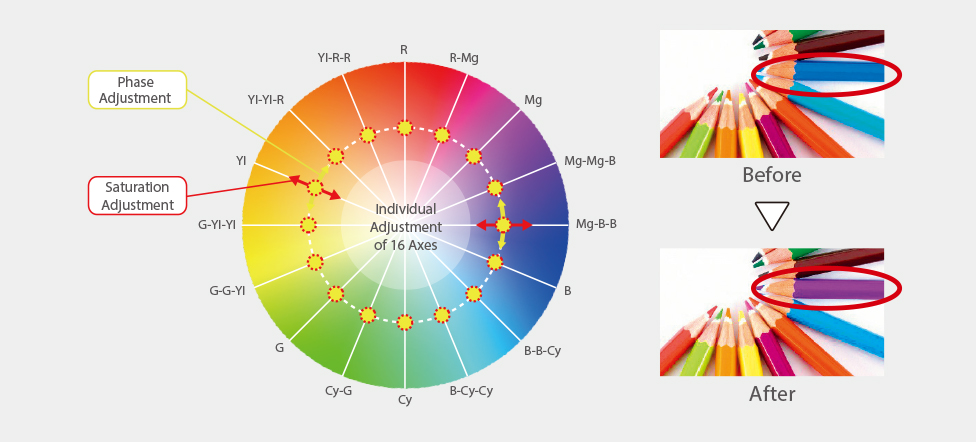 Soft Skin
Makes skin colors appear softly and beautifully. Especially effective when recording the person up close.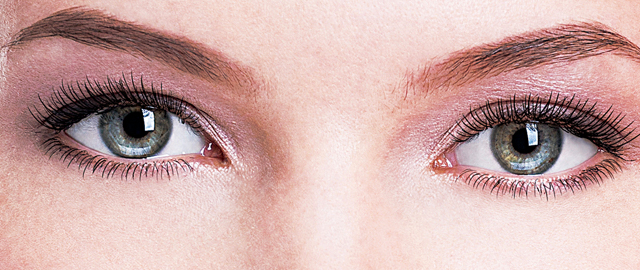 Soft Skin OFF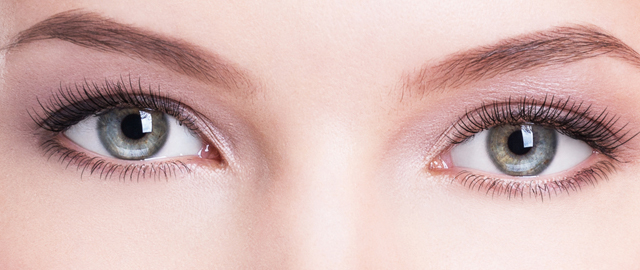 Soft Skin ON
Master Detail
Adjusts the overall degree of contour enhancement.

Weak

Strong
8-Mode Gamma
Gamma can be selected from eight modes, including two Cine-Like modes developed based on VariCam know-how. Desired gradation can be achieved to suit specific video production needs.
Scene Files
Six files preset with picture quality settings are provided as Scene Files (Standard, Shooting under fluorescent lights, Spark, STILL-LIKE, CINE-LIKE contrast, and CINE-LIKE dynamic range). You can change any of the settings as desired and store one set as a Custom File in the camcorder.
Scene File Setting Items
• Master Detail
• Detail Coring
• V Detail Level
• RB Gain Control Setting
• Chroma Level
• Chroma Phase
• Matrix
• Color Correction Setting
• Skin Tone Detail
• Master Pedestal
• Gamma Mode
• Black Gamma
• Knee Mode
• White Clip Setting
• DRS
• DRS Effect
• NR Control
• AE Level
• AE Level Effect
Save/Restore Camera Setting
This function lets you save your camera's setup information to a file on an SD memory card, which is helpful when you need the same settings for later use, or when shooting with multiple cameras and users.
LCD/EVF Displays That Assist Shooting
• Waveform Monitor Display
• Vector Scope
• Zebra Pattern
• Luminance Level Adjustment
• Level Gauge
Professional Assist Functions
• Flash Band Correction
• Shockless Auto White Balance
• Selectable matrix tables including CINE-LIKE mode
• V detail, detail coring
• Chroma level, chroma phase, color temperature, master pedestal
• Knee point setting
Supported for Pro Operations
Simultaneous Display on LCD Monitor and EVF
Simultaneous LCD/EVF output constantly displays the LCD monitor image whether the EVF is being viewed or not.
3.5-inch LCD with Touch Operation
The approx. 2,760-k dot LCD monitor has an RGB pixel structure for high legibility in bright light, and an electrostatic touch panel for easy menu selection.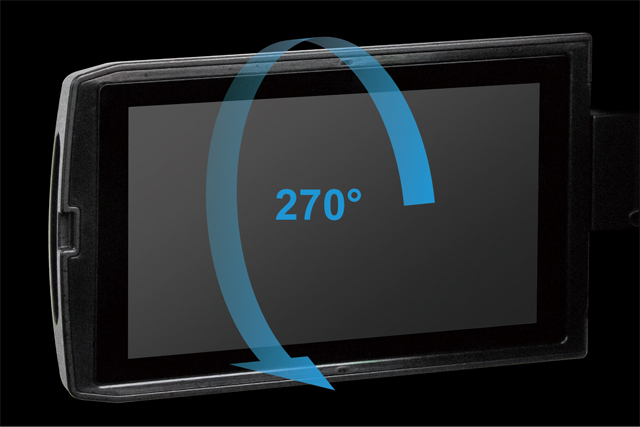 Selfie-shooting Mode
Operational icons are displayed on the touch panel even when the LCD monitor is rotated 180 degrees, so you can shoot while confirming facial expressions and the angle of view.
Tiltable Viewfinder with Eyecup
The 1,560K-dot-equivalent color viewfinder can be tilted for added convenience. The large eyecup fits either eye comfortably.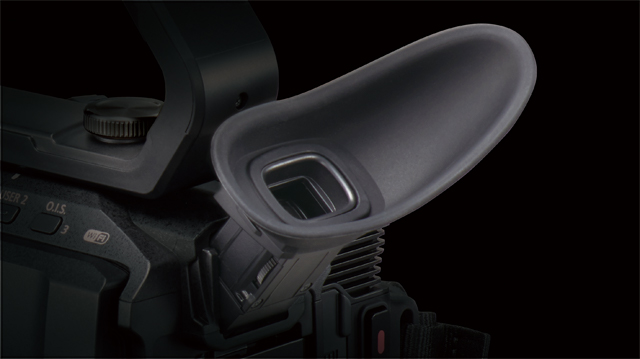 Two Manual Rings
Two Manual Rings are provided, one for focusing and the other for zoom or iris operation. The use of the Manual Rings is improved by using different-sized rings in the front and rear, so they can be distinguished by the fingers.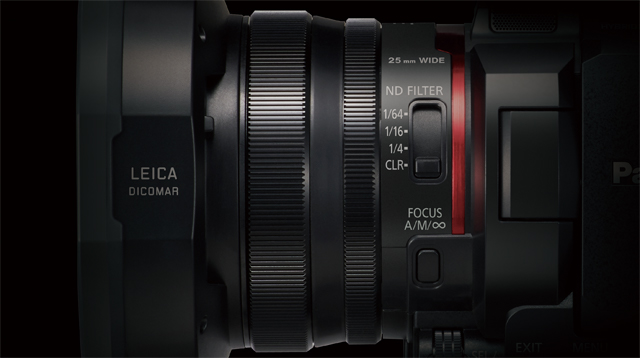 Double SD Card Slot
Two SD card slots are provided. This enables unlimited relay recording by simply changing SD cards, and also allows the use of various recording systems to ensure high recording reliability.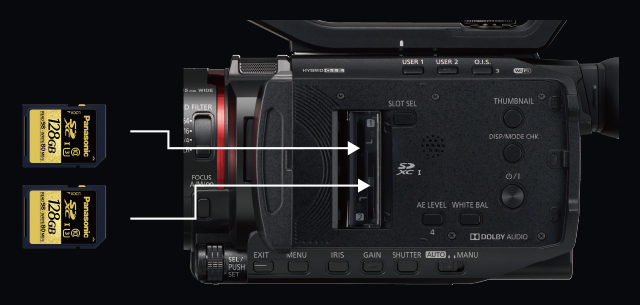 Simultaneous Recording

Identical data is recorded onto cards in both slots in this redundant recording mode.
Background Recording

One SD card can be set in Slot 2 to record continuously, and another SD card can be set in Slot 1 to record necessary scenes by turning REC on and off.
Other Recording Functions
Pre Rec


This function constantly caches approximately 10 seconds of video and audio data in AVCHD format and FHD MOV/MP4 format, approximately 5 seconds in UHD MOV/MP4 format or approximately 3 seconds in P2* format, prior to Rec Start, so the data can be recovered in case there is a delay in pressing Rec Start.

Interval Rec


Records intermittently based on a set interval time of 8 patterns, from 1 second to 10 minutes.

Time Stamp


The date and time can be stamped onto recorded images.
Built-in LED Video Light
The video light is extremely bright (70 lx at 1 meter) for reliable shooting in dimly lit places. The Dimming Dial on the handle can be used to easily dim the brightness from 30%-100%.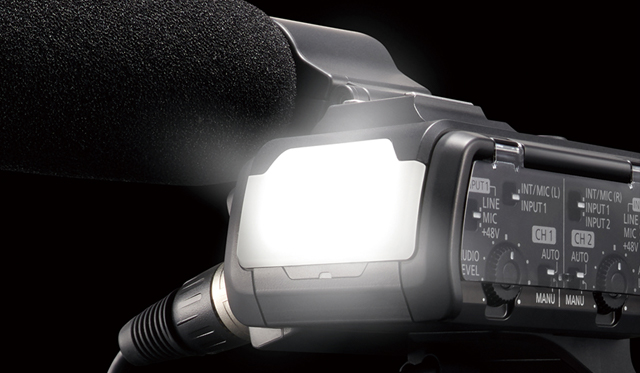 24-bit High Resolution Linear PCM Audio Recording
+48V Phantom Power Supply/MIC/LINE Selectable XLR Audio Input with Manual Volume is equipped for each of 2 channels. Also supports 24-bit high-resolution PCM audio recording with a professional mic.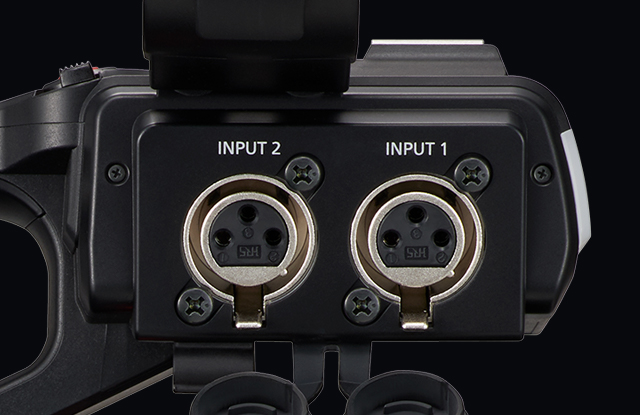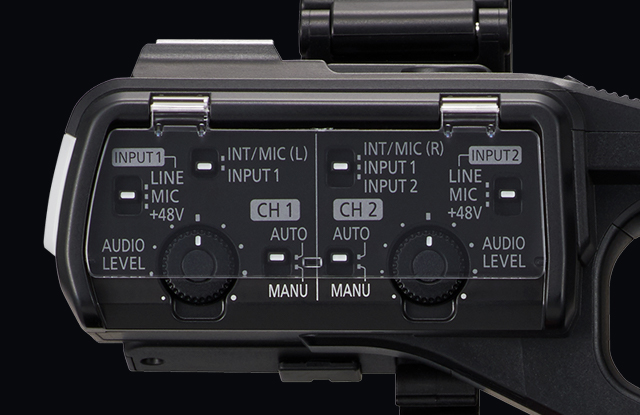 Cable Holding Clamp
A cable clamp on the hand belt prevents the cable from catching on objects when shooting, or pulling out a terminal to interrupt live streaming.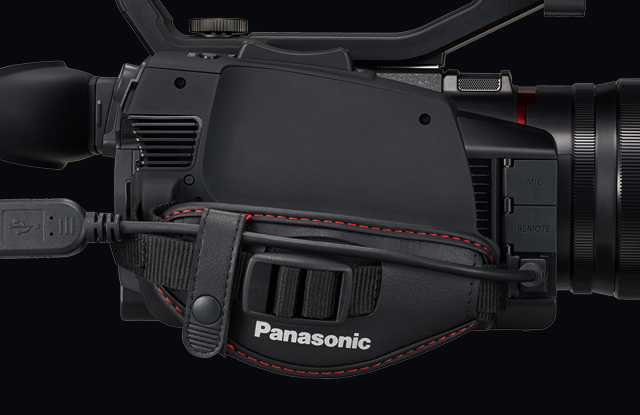 Detachable Handle Unit
Easily detachable and equipped with a REC Button, Zoom Lever, 2-channel XLR Audio Input, LED Light, etc. Capable of full-scale audio recording with a professional mic.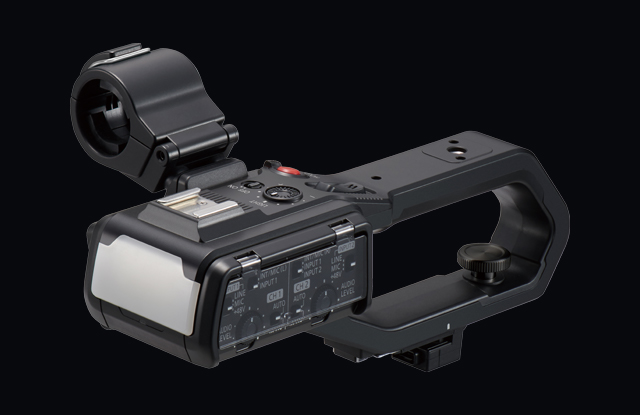 User Buttons
38 functions can be allocated to the User Buttons. There are a total of 12 User Buttons: five on the body, and seven on the LCD Touch Panel. The O.I.S. and AE LEVEL buttons can also be used as User Buttons.
Main Parts and Controls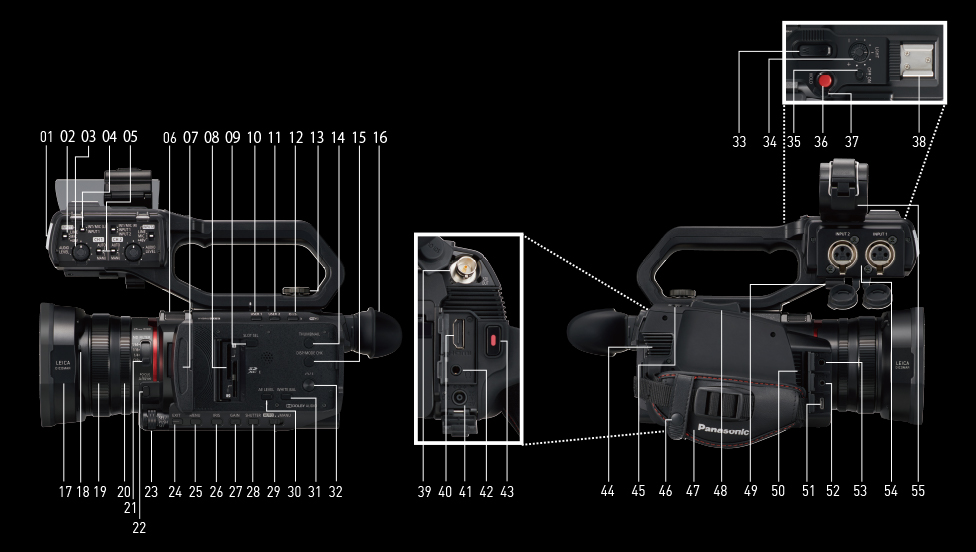 01. Built-in LED Light
02. Line/Mic/+48V Switch
03. Audio Level Dial
04. Built-in Mic or MIC Terminal/Input Terminal Switch
05. Auto/Manual Audio Level Switch
06. Built-in Stereo Microphone
07. LCD Monitor
08. SD Card Slot x 2
09. Slot Select Button
10. User 1 Button
11. User 2 Button
12. O.I.S./User 3 Button
13. Handle Unit Mounting Screw
14. Thumbnail Button
15. Display/Mode Check Button
16. Eye Cup
17. Lens Hood
18. Lens Cover Open/Close Switch
19. Focus Ring
20. Zoom/Iris/Iris or AE Level Ring
21. ND Filter Switch
22. Focus A/M/∞Button
23. Multi-function Dial
24. Exit Button
25. Menu Button
26. Iris Button
27. Gain Button
28. Shutter Button
29. Auto/Manual Switch
30. AE Level/User 4 Button
31. White Balance Button
32. Power Button
33. Zoom Lever
34. Light Dimmer Dial
35. Light Switch
36. REC Button
37. Hold Lever
38. Accessory Shoe
39. SDI OUT
40. HDMI Terminal
41. DC IN Terminal
42. Headphones Terminal
43. REC Button
44. Fan Inlet
45. User 5 Button
46. Cable Holding Clamp
47. Grip Belt
48. Zoom Lever
49. Mic Cable Clamp
50. Fan Outlet
51. USB Terminal
52. REMOTE Terminal
53. Mic Terminal
54. XLR Audio Input x 2
55. Microphone Holder
Versatile Networking Functions
Built-in Wi-Fi
A 2.4-GHz Wi-Fi module is built-in, so there is no need to purchase a separate wireless LAN module. Wi-Fi connection is possible using only the main unit.

Wireless Control from a Tablet or Smartphone
Use wireless remote control with a tablet/smartphone app HC ROP (downloadable for free from the App Store or Google Play).*1 In addition to zoom and focus lens control, the app enables remote control of various other functions, including camera setting, picture quality adjustment, REC start/stop and menu setting. What's more, the app can be used to select the camera to control from up to eight cameras.*2
Wired Remote
Equipped with a REMOTE terminal (2.5-mm super mini jack) for remote operation of focus, zoom, REC start/stop, etc.
* A wired remote controller (commercially available) is required.
FHD Live Streaming
RTSP/RTP/RTMP/RTMPS-compatible FHD streaming enables direct connection and distribution of relays for concerts, sports events, and news flashes to Facebook, YouTube, etc. While streaming, recording (with modes below FHD) onto SD cards in the camera is also possible.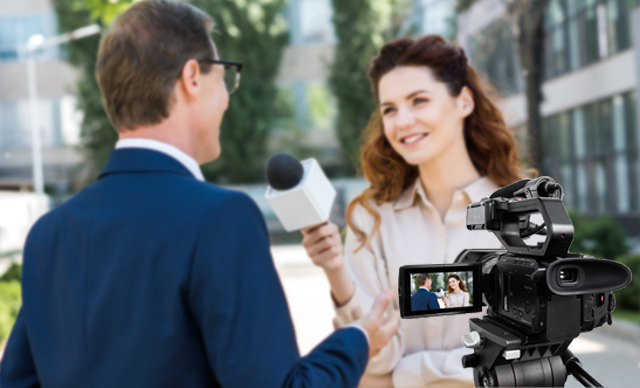 3G-SDI Output
The 3G-SDI output terminal (BNC connector, 5CFV) can be used to transmit FHD 1080/60p, 1080/50p signals through a coaxial cable over a distance of up to 100 m. Panasonic recorders equipped with SDI input can be linked to the Rec Start/Stop function of the AG-CX10/HC-X2000.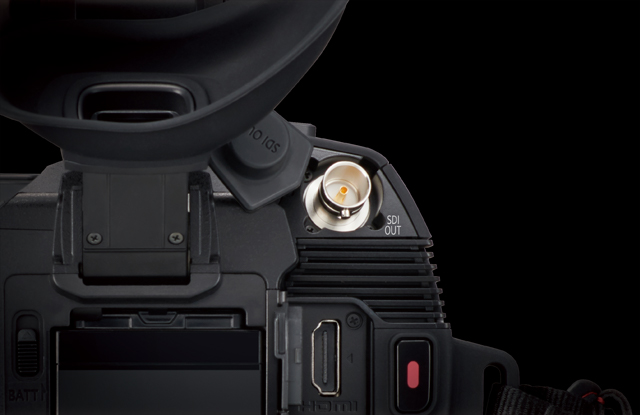 P2 MXF File Formats Supported with Proxy
The AG-CX10 supports the MXF P2 file format for broadcasting. Main recording with AVC-Intra or AVC-LongG codec and sub (proxy) recording with AVC-Proxy G6 codec can be recorded simultaneously. Despite the low bit rate of 12 Mbps or 6 Mbps, the proxy data has the same angle of view and resolution as the main recording, enabling highly immediate breaking news.
* Proxy recording cannot be used during MOV/MP4/AVCHD/AVC-LongG12 codec recording, streaming, NDI|HX, interval recording, simulcast recording, background recording and timestamp recording.
Easy IP Connection: NDI | HX Capable
Transmits data and camera control via IP connection, without a converter. Linking the AV-HLC100 and HN/UN Series enables a live streaming system.
* Recording, streaming and 4K output are not available when using NDI | HX mode.
Purchasing of an Activation Key is required to use the NDI | HX function. For details, refer to the NewTek website.
Ethernet (Conversion Adaptor Included)
Wired Internet connection is possible by simply providing a LAN cable. This enables stable live streaming even in environments with unstable Wi-Fi.
* The supplied USB HOST conversion cable and USB ethernet adaptor are necessary for the connection.