It supports wired LAN, wireless LAN and 4G/LTE networks
Innovating Workflows with Network Functions*1 and AVC-ULTRA Codec

Acquisition > Automatic Uploading
Recorded clips (proxy or actual files) are uploaded directly from the AJ-PX800G to a network. The new Rec During Upload function automatically uploads files to a network server in the background while recording.
Full-HD Streaming
On-air streaming (via the internet) is possible while recording mainstream video onto a memory card, using only the AJ-PX800G. This QoS (Quality of service) mode allows proxy images in Full-HD resolution to be streamed at a low bit rate by optimizing the bit rate to match the network condition.
Preview and Remote
Wireless connection is supported via a wireless LAN. Clips recorded by a PC/Mac, tablet device or smartphone can be previewed and metadata can be checked and edited. P2 ROP App for iPad is also provided for multifunctional camera remote operation.
Cloud Solution
Even smoother operation is possible by using a cloud service. Proxy files that are automatically uploaded to a cloud server can be edited (remote playlist editing) from a network, and only the necessary data can be sent from the AJ-PX800G to an ingest server.

P2 Cast*2: P2 Cast is the cloud service Panasonic provides for broadcast and production use.
*1: For details, refer to "Notes Regarding Network Connections".
*2: This service is not available in some areas. The use of DCF Technologies is under license from Multi-Format, Inc.
・ Apple App Store and iPad are service marks or trademarks of Apple Inc. registered in the United States and other countries.
Wired/Wireless LAN, 4G/LTE Network Functions*1
The standard LAN (Ethernet) port allows network connection via a wired LAN. When the optional AJ-WM30 Wireless Module is installed, the AJ-PX800G gains wireless LAN (IEEE 802.11g/n) connectivity, enabling access to the following functions from a network-connected PC/Mac, tablet device or smartphone. 4G/LTE connection is also possible.
Proxy Preview:

Plays back proxy files (AVC-Proxy), downloads file/clip information, displays and allows editing of metadata, and enables addition/deletion of shot marks and text memos.*2

Camera Remote:

Easy remote operation is possible from various devices by using a web app. The iPad app (available free of charge from the Apple App Store, P2 ROP) enables multifunctional remote operation equivalent to ECU.

Playlist Editing:

Playlists can be created using proxy video with a PC/Mac or tablet. The workflow can be streamlined to be faster by rough editing on location, and then transferring the content files.

File Transfer:

When connected via wired/wireless LAN or 4G/LTE, the FTP client function lets you transfer clips from the camera recorder to a network. Recording and playback are possible during file transfer.
RTSP/RTMP/RTMPS-Compatible HD Streaming
Full-HD streaming is possible while images are being acquired. All of their RTSP, RTMP and RTMPS streaming methods are compatible. And Facebook, YouTube, and other streaming services are supported. A unique QoS (Quality of Service) mode*1 optimizes the bit rate according to the network conditions for stable streaming distribution. High performance is also achieved by linking to P2SS (streaming server).*2
* For details, see the tables below and "Notes Regarding Network Connections."
* It may not be possible to deliver streaming from the unit when services such as Facebook or YouTube stopped or discontinued operation for some reason.
*1: P2 Streaming Receiver software (Windows only, not supported by Mac; available free of charge) is required for receiving the QoS mode.
*2: A server with the Streaming Receiver Server Kit (Optional: AJ-SRK001G) installed.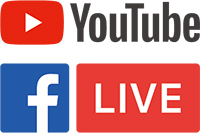 Streaming Mode Specifications
Mode
Resolution
Frame Rate
Bit Rate
Codec*3
AVC-G6
1920 x 1080*4
30 fps/25 fps
6 Mbps
H.264 High Profile
1280 x 720*5
60 fps/50 fps
HQ
640 x 360
30 fps/25 fps
1,500 kbps
LOW
480 x 270
30 fps/25 fps
800 kbps
H.264 Baseline Profile
AVC-G (QoS)
1920 x 1080*4
30 fps/25 fps
Variable depending on
the communication band, Maximum 9 Mbps
H.264 High Profile
1280 x 720*5
60 fps/50 fps
SHQ (QoS)
960 x 540
30 fps/25 fps
Variable depending on
the communication band, Maximum 6 Mbps
H.264 High Profile
*3: The audio codec is AAC LC 2ch in all streaming mode.
*4: When only the record signal is 1080/59.94i or 1080/50i.
*5: When only the record signal is 720/59.94p or 720/50p.
Recording Format and Streaming Output
Recording Signal
Recording Codec
HD Streaming Mode
AVC-G6, AVC-G (QoS)
SD Streaming Mode
HQ, LOW, SHQ (QoS)
1080/59.94i
1080/50i
720/59.94p
720/50p
AVC-Intra100
✓
✓*6
AVC-Intra50
—
✓*6
AVC-LongG50
✓
✓*6
AVC-LongG25
✓
✓*6
"✓" are supported, and "—" are not supported.
*6: [LOW] cannot be selected when 720 mode.
Camera Remote/Playlist Editing (Wireless LAN, Wired LAN)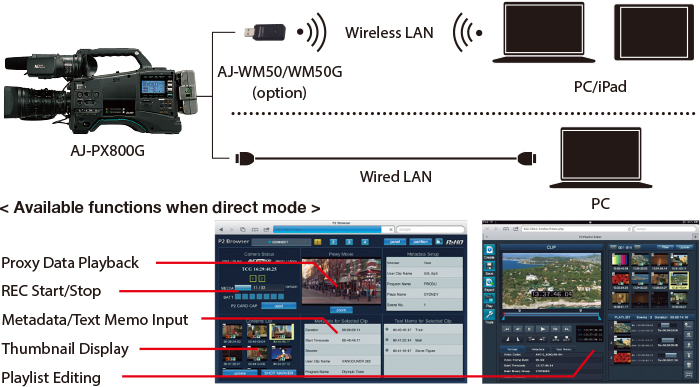 File Upload/Streaming (Wireless LAN, 4G/LTE, Wired LAN)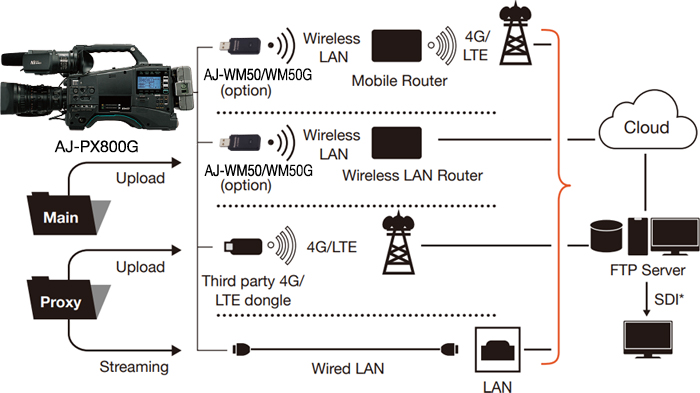 Transferring Recorded Clips Automatically: Rec During Uploading Function
The Rec during Uploading function*, which automatically and sequentially transfers recorded clips to an FTP server or cloud service, has also been newly added. Uploading is done in the background, and recording/playback continues during the transfer. In addition to allowing the camera operator to concentrate on shooting without any concerns about uploading, this also boosts the levels of safety and immediacy. The transfer status can be checked on the LCD monitor or viewfinder. If the network is disconnected during transfer, or the power of the camera is turned off, transfer resumes when the connection or power is recovered. Manual transfer of up to 100 registered clips is also possible.

* During simultaneous recording, only recorded clips in slot 1 is automatically transferred. Clips of interval recording, loop recording, one-clip recording or one-shot recording are not transferred automatically. The streaming function are disabled, while using the Rec during Uploading function.
Linking with LiveU or TVU bonding services offers faster and more stable live streaming and FTP transfers.
IP connection (wired or wireless) with LiveU or TVU Networks devices enables parallel use (bonding) of multiple cell phone lines. Live streaming with the QoS mode gets a higher bit rate and more stable quality. And FTP transfers using a Rec During Uploading function gets also faster transfer speed and better stability to achieve a faster overall workflow. In addition, the status of the LiveU or TVU device is displayed in the camera's viewfinder to allow easy confirmation of the network connection conditions.
Combined with Panasonic's P2 Streaming Server (P2SS) and P2Cast, this produces a comprehensive solution for a variety of broadcast needs.
P2 Live Streaming/P2Cast Cloud Workflow with Bonding Devices

Viewfinder Displays of the Connection Conditions (marked in red)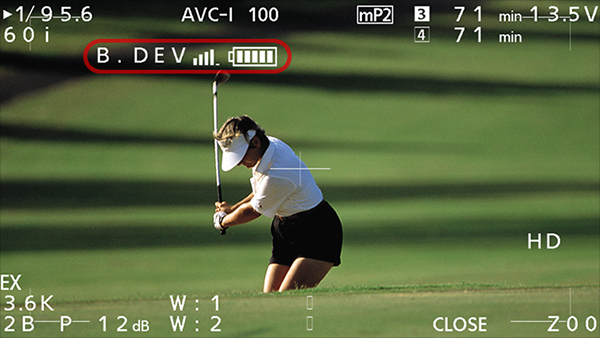 * An example of AJ-PX5100GJ.
Direct Connection to The LiveU or TVU Video Uplink Solution*1
The AJ-PX800G supports direct connection to the LiveU Central management platform using public networks, such as 4G/LTE, wireless LAN or wired LAN. There is no need for special uplink equipment. This enables both live previews on the reception side, and on-air streaming. Users are also able to remotely control the zoom, focus, iris, white balance and master gain of the AJ-PX800G on LiveU Central.
The AJ-PX800G offers high mobility thanks to the world's lightest weight
The 2/3 type Shoulder-type Model
The AJ-PX800G is the world's lightest* in its class at approximately 2.8 kg (6.2 lb) for the main unit. This compact body provides superb mobility. It is also designed with excellent forward visibility.
* For a 2/3 type shoulder-type HD camera-recorder with three sensors (as of June 2015).
2/3 type Interchangeable Lenses
The 2/3 type bayonet mount interchangeable lens system lets you choose from a variety of 2/3 type zoom lenses for broadcasting and other professional uses from third-party manufacturers. Select the lens type and performance level that meets your needs.
High Sensitivity and Low Noise with 2/3 type 3MOS Image Sensors
The 2.2 megapixel 2/3 type 3MOS (RGB) image sensors offer full-pixel HD (1920 x 1080) resolution, F12 (59.94 Hz) or F13 (50 Hz) sensitivity and low noise with an S/N of 62 dB. It also achieves rich gradation and vibrant color reproduction.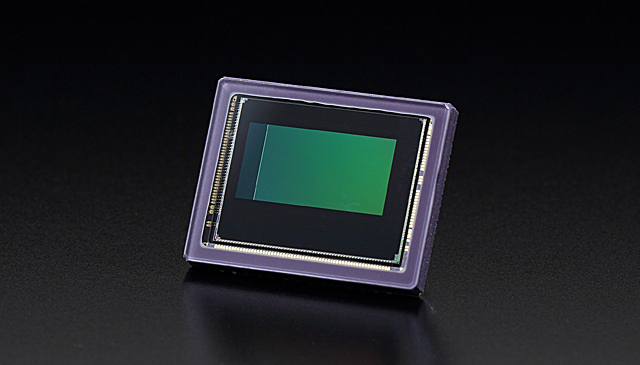 2.2 megapixel 2/3 type 3MOS image sensor
High-Quality Image Processing and Versatile Image Settings
CAC (Chromatic Aberration Compensation):

When using a CAC compatible lens, the small amount of circumjacent chromatic aberration (circumjacent blur) that is not corrected by the lens is compensated by this process.

DRS (Dynamic Range Stretcher):

Suppresses blocked shadows and blown highlights to achieve a visually wide dynamic range.

Advanced Flash Band Compensation (FBC):

High-precision flash band detection and compensation.

Gamma:

Selectable from 7 modes of gamma curves.

Digital image settings:

H Detail, V Detail, Detail Coring, Skin Tone Detail, Chroma Level, Chroma Phase, Master Pedestal, Knee, Matrix (NORM1/NORM2/FLUO/CINE-LIKE), High Color, White Clip.
Professional Shooting Functions
Scan Reverse:

Displays/records images in vertically or horizontally inverted orientation.

Digital Zoom:

2x/4x digital zoom.

Shutter:

Slow shutter, synchro scan function.

Optical ND Filters:

Four-position (CLEAR, 1/4 ND, 1/16 ND, 1/64 ND).
Versatile Shooting Assist Functions
User Interface "SmartUI":

User Interface consists of a LCD display and multiple switches. Multiple function can be set easily with minimum operation.

Focus Assist:

"EXPAND" for center zoomed image and "Focus-in-Red" can be displayed on viewfinder.

Focus Bar:

Focus level shown as bar.

Scene Files/User Files:

Scene files let you select either of six preset files from the menu on SmartUI according to the shooting situation and up to eight settings can be stored onto an SD memory card. Up to eight camera setting status can be stored to an SD memory card.

Gain:

Three-position gain selector with a maximum gain value of +42 dB. (Super gain)

User Buttons:

Frequently used functions can be assigned to the User buttons.

Shockless White Balance:

To enable smooth White Balance mode switching.

AWB:

Auto White Balance with auto tracking white function.
Audio input level adjustment (front) can be switched on/off and allocated to desired channels.

WFM / Vectorscope:

Simplified waveform and vectorscope display.

Zebra:

Select any two levels from 0% to 109% in 1% steps.

Mode check:

Displays a list of the camera settings.

Y-GET:

Measures brightness at center and displays numerical data.
The optional CVF15G Color HD View finder, when opened, serves as an LCD monitor.

Marker Display:

Displays a center marker, safety zone marker and frame marker.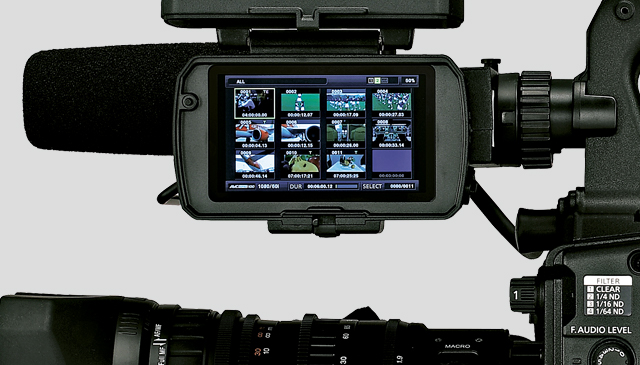 The recorder section offers AVC-ULTRA multi-codec recording capability and 2 slots for P2 cards
AVC-ULTRA Codec Supported as Standard
From mastering to streaming, the image quality and bit rate can be selected to match the application. Panasonic's professional A/V codec family, AVC-ULTRA, is provided as standard to meet the particular needs of broadcasting and video production.

An intra-frame compression method that is highly suited to image production, AVC-Intra100/50.

An inter-frame compression method that achieves highquality HD recording at a low bit rate. Ideal for providing on-air content direct from the shooting location and for workflows using content transferred over the internet. Three bit rates are available:
AVC-LongG50/25/12 Mbps. AVC-LongG25 provide 10 bit/4:2:2 quality at a bit rate of approximately 25 Mbps.

Low-bit-rate, high-resolution, high-soundquality proxy video (Quick Time/H.264) is also recorded with the actual data.* Also includes metadata for efficient offline editing.
* Proxy data cannot be recorded when using the Loop Rec or Interval Rec function. Proxy data is low-resolution video and audio data with time code, metadata, and other management data in a file format.

HD/SD Multi Format/Multi Codec
The AJ-PX800G supports 59.94 Hz/50 Hz switching for convenient use in productions headed for global use, and records 1080/60i,* 50i, 24p,* 25p, 30p* and 720p HD/SD multiple format. DVCPRO HD/DVCPRO50/DVCPRO/DV recording is also supported.
* 60i, 60p, 24p and 30p are actually 59.94i, 59.94p, 23.98p and 29.97p.
High-Quality 24 Bit Four Channel Audio Recording
AVC-Intra and AVC-LongG*1 modes support 24bit/48kHz/4CH digital audio recording*2. Audio source for each channel can be selected for each channel, choosing from mic-in, line-in and wireless receiver.
*1: The AVC-LongG12 mode does not support 24 bit digital audio recording.
*2: The audio signal can be played back by using 24 bit digital audio equipment. For details, refer to "Note Regarding 24 bit Audio" .
Two Slots for Versatile Recording Option
Using Memory Card Adapter AJ-P2AD1G, microP2 card can be used.

Simul Rec:

Records simultaneously onto two P2 cards.

Dual-codec recording:

Records a low-rate AVC-Proxy file while recording main data in AVC-Intra/AVC-LongG.

Hot-Swap Rec:

Thanks to the two card slots, you can hot-swap P2 cards for continuous non-stop recording.

One-Clip rec mode:

*1 Records up to 99 consecutive cuts as a single clip.

Loop rec:

Repeatedly re-records while maintaining a recording of the most recent, pre-determined period.

Pre-rec:

*1 Continuously stores footage prior to pressing Rec Start for recovery if desired.

Interval rec:

Automatically records intermittently based on a set interval and recording time.

One-shot rec:

A frame-shot recording function useful for producing animations.

Text Memo:

*2 Up to 100 memos can be posted onto a clip as bookmarks.

Shot Marker:

*2 Used to mark clips as OK, NG, etc.

Metadata:

Data with information such as operator's name, shooting location, and text memos can be added via an SD memory card.

Rec Check:

This lets you run a quick playback check of the clip-end you have just recorded.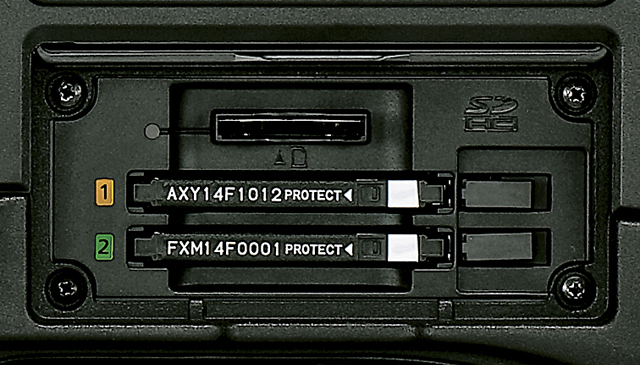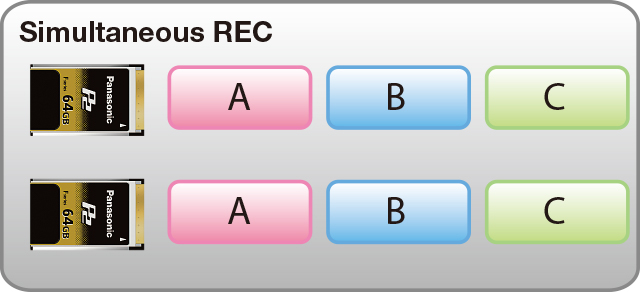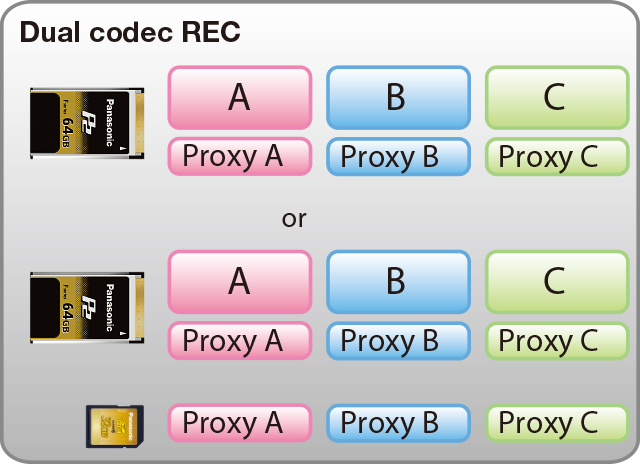 *1: Not available in 24p, 25p and 30p recording modes.
*2: Shot marker and text memo cannot be used in loop rec, interval rec, or one-shot rec.
Recording Codecs and Video Formats
Codec
1080
720
480
576
60i
50i
30pN*3
24pN*4/
23.98PsF
25pN*5
60p
50p
30pN
24pN
25pN
60i
50i
AVC-Intra100
✓
✓
✓
✓
✓
✓
✓
✓
✓
✓
—
—
AVC-Intra50
✓
✓
—
—
—
✓
✓
—
—
—
—
—
AVC-LongG50
✓
✓
✓
✓
✓
✓
✓
—
—
—
—
—
AVC-LongG25
✓
✓
✓
✓
✓
✓
✓
—
—
—
—
—
AVC-LongG12
✓
✓
✓
✓
✓
✓
✓
—
—
—
—
—
DVCPRO HD
✓
✓
—
—
—
✓
✓
—
—
—
—
—
DVCPRO 50
—
—
—
—
—
—
—
—
—
—
✓
✓
DVCPRO
—
—
—
—
—
—
—
—
—
—
✓
✓
DV
—
—
—
—
—
—
—
—
—
—
✓
✓
"✓" are supported, and "—" are not supported.
*3: 1080/29.97p over 59.94p output
*4: 1080/23.98p over 59.94p output
*5: 1080/25p over 50p output
AVC-Proxy Recording Modes and Recording Signals
Recording Mode*6
Video
Audio
Resolution
Codec
Bit Rate
Codec
CH
Bit Rate/1 CH
AVC-G6 2CH MOV
1080i mode: 1920 x 1080
720p mode: 1280 x 720
H.264 High Profile
6 Mbps*7
AAC-LC
2 CH
64 kbps
SHQ 2CH MOV
960 x 540
H.264 High Profile
3500 kbps
Linear PCM
2 CH
768 kbps
HQ 2CH MOV
1080i mode: 640 x 360
H.264 High Profile
1500 kbps
AAC-LC
2 CH
64 kbps
LOW 2CH MOV
1080i mode: 480 x 270
480-59.94i mode: 352 x 240 (SIF_NTSC)
576-50i mode: 352 x 288 (SIF_PAL)
H.264 Baseline Profile
800 kbps
AAC-LC
2 CH
64 kbps
*6: Some recording modes are not supported depending on the main recording format.
*7: For 720/30pN, 720/24pN or 720/25pN, the bit rates become 3 Mbps.
HD SDI IN/OUT, HDMI OUT and Other Interfaces

Supports SDI OUT for feed and backup recording with optional SDI IN for line recording.

HDMI OUT:

This terminal allows digital A/V output to a wide range of HD devices.

MON OUT:

This terminal outputs HD SDI, down-converted SD SDI, or VBS.

Aspect conversion:

Aspect ratio of down conversion signal can be selected from Side Crop, Letter Box or Squeeze mode.

TC IN/OUT:

A built-in SMPTE time code generator/reader. IN/OUT selectable by menu settings.

GENLOCK IN:

For synchronized recording with a multi-camera system.

USB 2.0:

Equipped with both HOST (for connection to an HDD) and DEVICE (for connection to a PC/Mac) terminals.
UniSlot®* compatible wireless receiver slot (two channels).

XLR audio input:

Two channel mic/line inputs supporting 48-V phantom power supply.
Audio output terminals (pin jacks), two channels.
Multiple battery support, including Anton Bauer.
* UniSlot® is a trademark of Ikegami Tsusinki Co., Ltd.
Camera Remote System Compatibility*
Camera Studio System


The optional camera extension system (AG-CA300G Camera Adapter and AG-BS300 Base Station) supports low-cost studio integration.

Wired LAN remote


A wired LAN connection allows the camera to be remotely controlled. Remote operation, including fine menu settings, is possible by using the optional AK-HRP200G Remote Operation Panel for studio cameras.

10 pin Remote Terminal


Camera remote operation is enabled with the optional AG-EC4G Extension Remote Control Unit or AK-HRP200G Remote Operation Panel.
* Only functions that are supported by the AJ-PX800G can be controlled.
The P2 ROP App for Wireless Control using iPad*1
The P2 ROP App (downloadable free of charge from the Apple App Store) for iPad is available. It enables iPad to control functions/setting of the AJ-PX800G Camera Recorder remotely via wireless connection. P2 ROP App can control variety of settings similar to those of the AG-EC4G Extension Control Unit controls, including picture quality settings and REC start/stop. Easy-to-see value display and easy-to-operate up/down touch keys provide settings and adjustments. Proxy browser is also built into the app so that operator can adjust the setting while checking recorded clips with thumbnail and previewing. Metadata can also be displayed and edited on iPad to support post production work.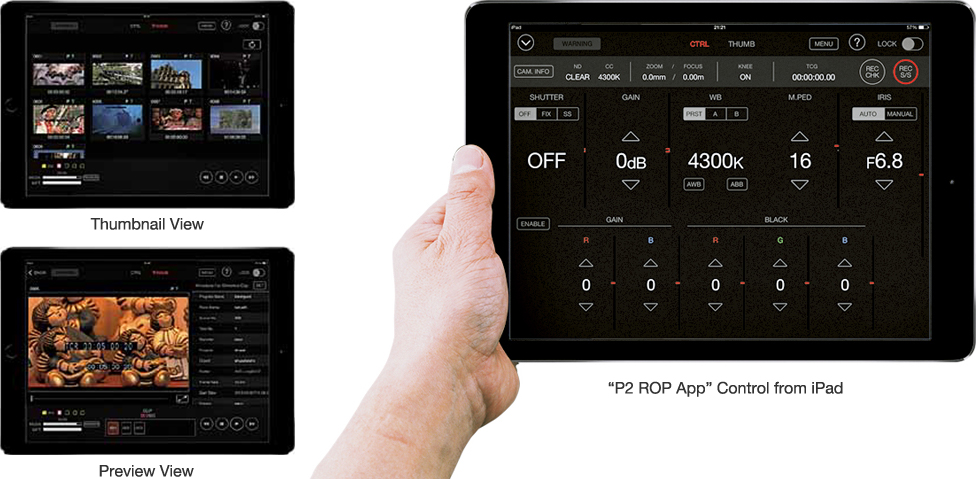 ・ Apple App Store and iPad are service marks or trademarks of Apple Inc. registered in the United States and other countries.