High-precision Image Capture That Never Misses Those Crucial Moments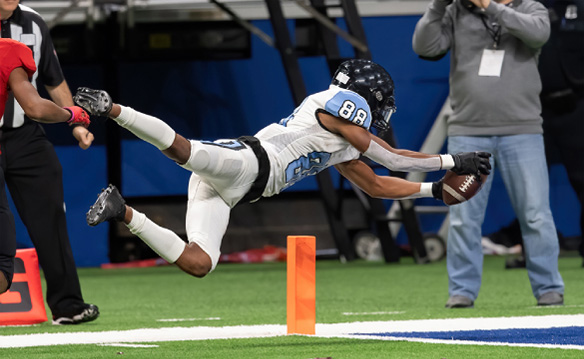 When capturing images from various angles in large stadiums, music festivals, and other large-scale venues, you can't predict where or from which angle you will have a chance to capture critically important scenes. Equipped with a wide lens and featuring 4K/60p, AW-UR100 can cover wide shooting areas and capture high-resolution video even when zooming digitally. D.I.S.S reduces the risk of shaky images. With capabilities for capturing high-definition images at a variety of venues, you won't miss any critical scenes or highlights from the event.
Industry's first* IP65-compliant, outdoor-ready integrated remote camera for 4K60p shooting
AW-UR100 features 4K with approximately four times more pixels than FHD (Full High Definition). It also supports 60 frames per second shooting (4K60p). Even scenes with intense movement can be captured without dropping frames, producing natural smoothness in high definition with high-quality colors.
* As of March 2023, according to our own research.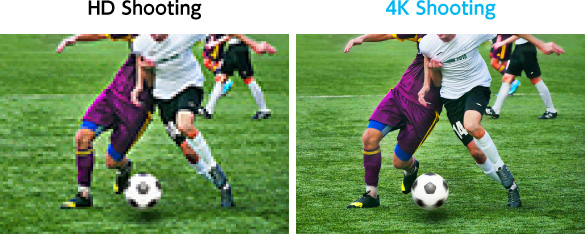 24x optical zoom / 74.1° horizontal wide-angle images
With the 24x optical zoom lens, you can capture bird's-eye views in large venues as well as close ups of difficult-to-reach subjects such as athletes and performers on the stage. In addition, with the 74.1° horizontal wide-angle capability for wide shooting areas, you can shoot a variety of scenes only using this camera.

Equipped with three types of image stabilizing systems: OIS, EIS, and D.I.S.S. (Dynamic Image Stabilizing System)
One of the challenges for outdoor PTZ cameras such as those mounted on a high pole or ceiling-mounted cameras has been low-frequency large amplitude swing from wind. To eliminate this problem, the AW-UR100 is equipped with three types of image stabilizing systems; optical image stabilization (OIS), electronic image stabilization (EIS), and Pan/Tilt image stabilization (D.I.S.S. or Dynamic Image Stabilizing System). The Pan/Tilt function has improved responsiveness enables smooth rotation of the camera to minimize trembling caused by external disturbances. In addition, the two-step vibration correction with OIS and EIS provides stable image capture regardless of the installation environment.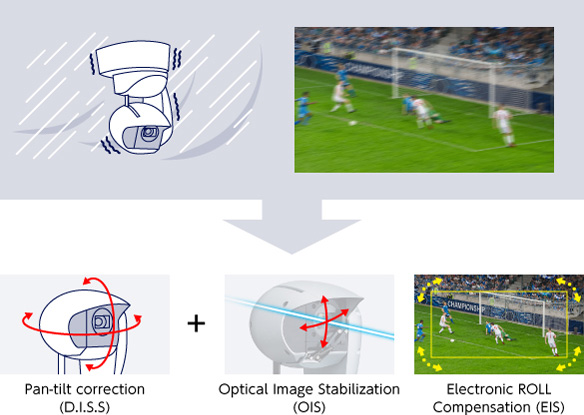 Movement of the camera itself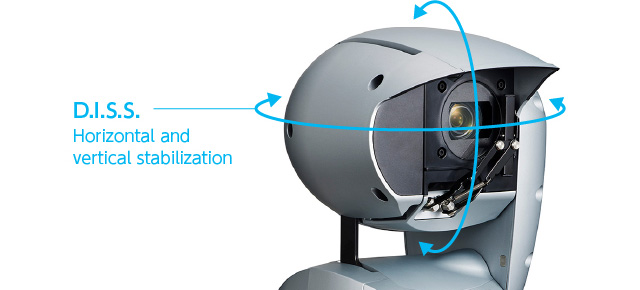 Movement of the lens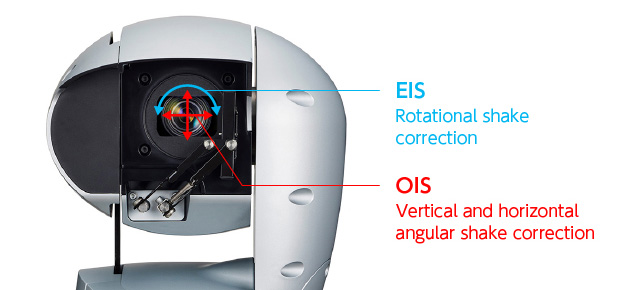 Cropping (+ Zoom) Function
The AW-UR100 can output entire images in 4K and at the same time create cropped shots from portions of the video. You can specify up to three different positions for cropping. The AW-UR100 can be easily accessed and operated from the remote camera controller AW-RP150GJ/RP60GJ or from a PC. In addition, you can zoom in on cropped images up to five times using the cropping zoom function*.
* The image quality of FHD cropping cannot be retained when cropping zoom is used.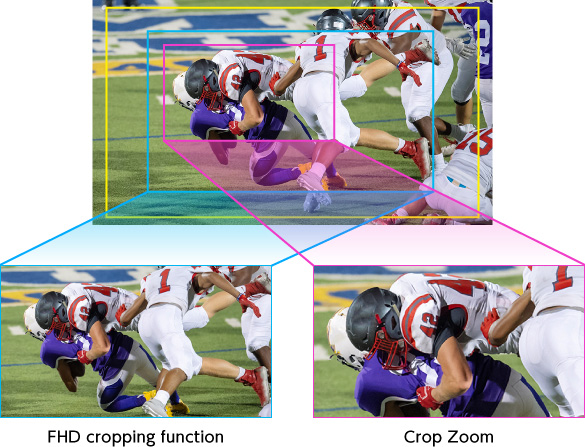 Durability for Continuous Shooting Even in Harsh Environments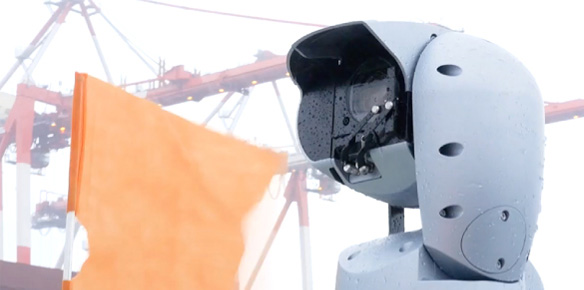 The AW-UR100 can withstand environments susceptible to salt damage, such as image capture for news footage at airports, broadcasting live in warehouse area in coastal regions, or video shooting on large ships. It is also suitable for live broadcasting from places which can be affected by rain, wind, snow, or ultraviolet rays. The camera is also hermetically sealed to keep out yellow sand and flying sand. The AW-UR100 is also equipped with a defroster that warms the camera to prevent accumulation of frost, ice, and condensation, even in extremely cold environments (-15°C), and it has a wiper that keeps the lens clear even in harsh weather conditions. While improving shooting performance, the AW-UR100 maintains the durability that had been recognized in the HR140, enabling high-quality image capture in harsh environments, where video crews would have a hard time working.
Passing Six Rigorous Durability Tests
The following six different verification tests have been conducted to achieve the durability that is essential for outdoor-ready cameras.
1. Wind Tunnel Test
All performance is guaranteed even in environments with wind speeds of up to 15 m/sec through a test that confirms the durability of the casing. The camera also maintains basic performance even at wind speeds of 50 m/sec without being damaged.
2. Seismic Vibration
Vulnerability and durability for resonance point exploration is tested. Vibration resistance is evaluated using simulated earthquake waves based on data from the Great Hanshin-Awaji Earthquake, the 2011 Tohoku Earthquake and Tsunami, and other regional earthquakes.
3. Salt-water Spray Test
Casings are sprayed with a sodium chloride (NaCl) solution from a salt-water spray tester to evaluate the corrosion resistance of the rust-resistant paint.
Heavy-duty salt-resistant coating: Protects the metal used in the casings from rusting.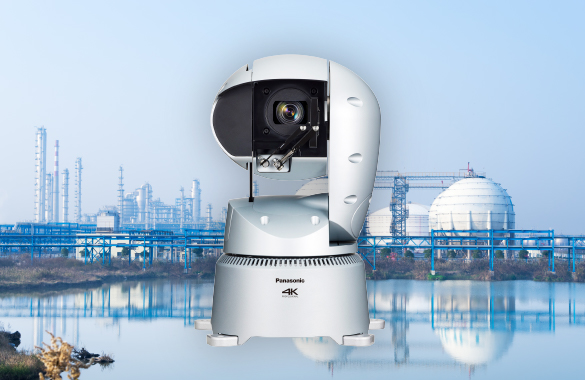 4. Sunshine Weather Test
Rain is simulated at regular intervals while the equipment is exposed to ultraviolet rays for 46 days to evaluate the weather resistance of resins and the effects of ultraviolet rays on moisture resistant coatings.
Heavy-duty salt-damage-resistant coatings protect resins used in casings from ultraviolet rays and moisture.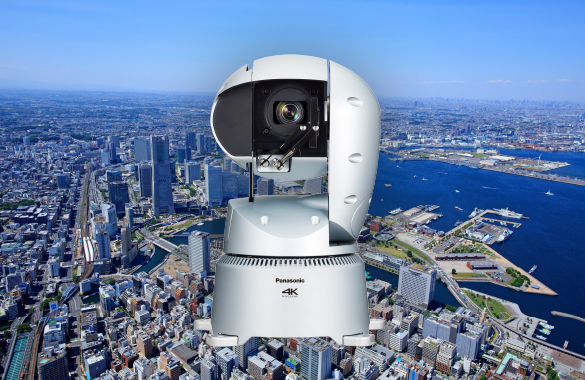 5. Waterproof and Dustproof Test (Protection Class IP65)
Dustproof and waterproof performance are tested to ensure "no dust penetrates into the equipment" and "the equipment is not affected by water jets from nozzles from all directions." You can use the AW-UR100 outdoors in the rain and in places that have flying sand and dust.
Dustproof test: The casing is continuously exposed to dust under pressure.
Waterproof test: The casing is continuously sprayed water jets from all directions.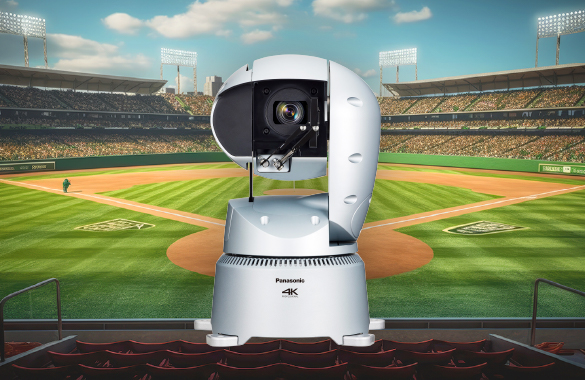 6. CASS Test
The casing is placed in a test environment in which a solution of acetic acid, sodium chloride (NaCl), and copper chloride (CuCl2) is sprayed by the CASS to assess corrosion resistance in the rust-resistant coating.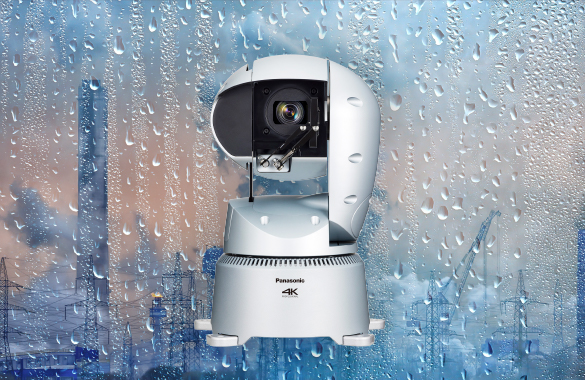 Equipped with a Defroster (-15°C)
A defroster prevents frost, ice, and condensation from accumulating, even in extremely cold environments of as low as -15°C., by warming up the camera. Snow melts off and visibility can be maintained even when snow gets on the glass surface of the lens, reducing the risk of missing shots.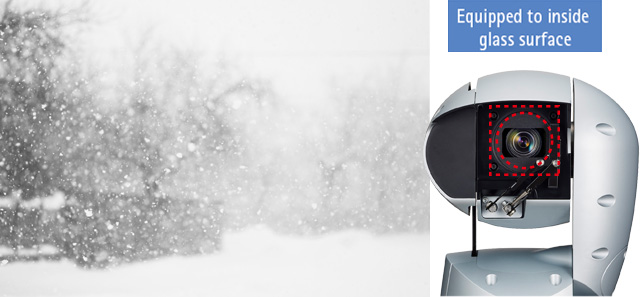 Equipped with a Wiper on the Lens
The lens is kept clear even in harsh environments by using a wiper. By connecting the wiper unit's washer control terminal to the control terminal of a commercially available washer unit, the wiper and washer can both be operated from the controller (AW-RP150GJ/RP60GJ*)
For compatible controllers and washer units that have been tested for operations, see Related Products
* Software may need to be upgraded to use this function.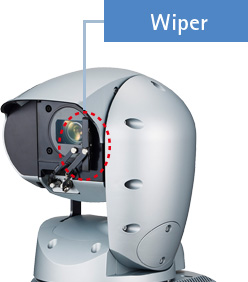 Flexibility in System Construction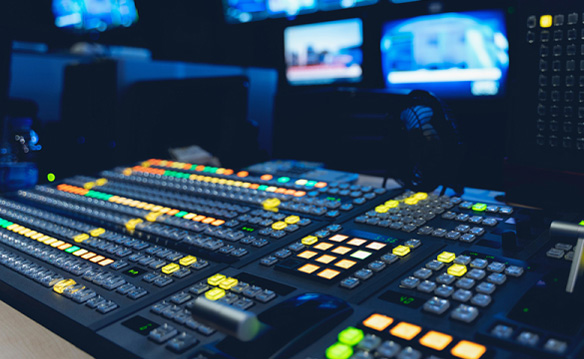 Responding to the diversification of requirements in outdoor video shooting, the AW-UR100 is equipped with video transmission I/F options that can support major baseband transmissions such as 3G-SDI, 12G-SDI, Fiber, etc. It also supports various IP protocols such as NDI® and SRT. Flexible enough to be adapted to various shooting environments and existing video production systems, it can be used in a wide range of installation environments and for purposes of image capture, editing, and distribution. The AW-UR100 helps you to widen the world of utilization and expression for outdoor image capture.
Various I/F and Supported Protocols
A major update from the HR140 with two 3G-SDI ports, the AW-UR100 is equipped with video transmission I/F options that support major baseband transmissions including 3G-SDI, 12G-SDI, and Fiber. 12D-SDI ports can also be used for 3G-SDI. As it supports major IP transmissions such as NDI®, SRT, and RTMP, you can utilize the AW-UR100 in your existing system environment.
* NDI® is a new protocol developed by NewTek, Inc. that supports IP video production workflow.
* NDI® is a registered trademark of NewTek, Inc. in the United States and other countries.
* In this instance, NDI® is used to indicate low latency with high bandwidth NDI®.
Rear terminal section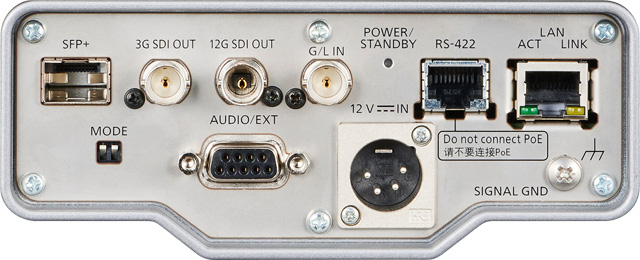 Compatible with FreeD,*1 enabling construction of AR/VR*2 systems
You can connect the AW-UR100 with AR/VR systems with the output of FreeD compliant commands. By outputting tracking data of cameras (pan/tilt/zoom/focus/iris) in conjunction with synchronization signals, you can easily build your system without an encoder.
*1: FreeD is a protocol that is used to output tracking data for camera position movements to be used with AR/VR systems.
*2: AR: Augmented Reality, VR: Virtual Reality.
AR/VR system construction image