Auto tracking function provided by Panasonic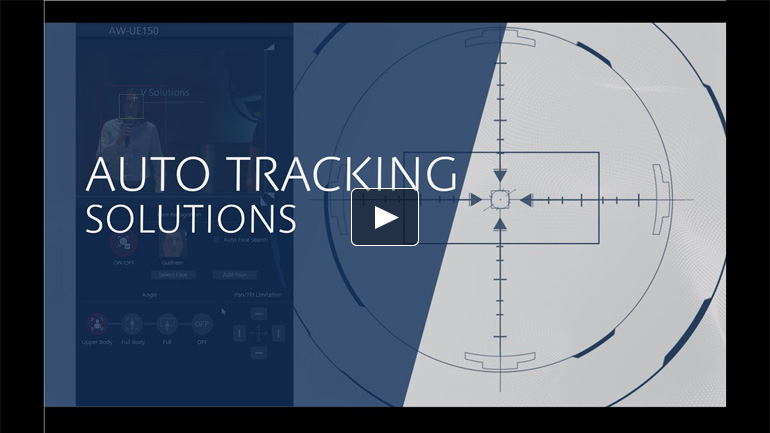 Panasonic PTZ Auto Tracking Solutions
Auto Tracking Software AW-SF100/SF200
Capable of tracking specific person from multiple people to realize smooth shooting.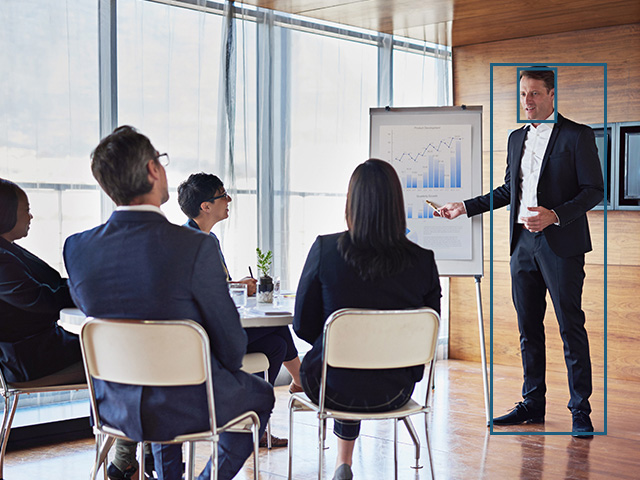 Highly accurate auto tracking is realized by "face recognition" + "human body detection by deep learning*1"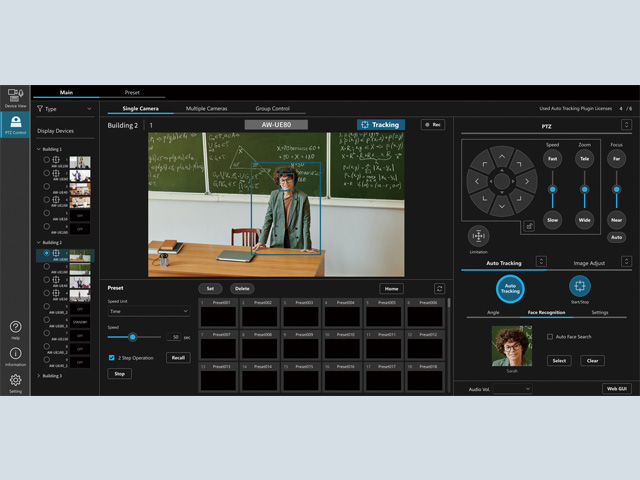 Detailed settings allow optimization of operation to the situation/environment in which it is used and to your requirements.
Enhanced functions to suit the application, such as auto tracking of the crop frame and improved stability by linking a wide-angle camera*2 for a bird's-eye view.
Highly functional software that makes it difficult to lose the tracking subject against multiple overlapping people.
Specify the display position of the tracking person or select a target to be tracked among multiple people.
Settings can be made to suit the application/environment, such as setting the sensitivity of tracking operation.
*1: Software update may be required before use. Restrictions may apply depending on user's server or PC. See "System Requirements for Auto Tracking Software Key"
*2: Only Panasonic PTZ Cameras supporting this software can be used as wide-angle cameras. The AW-UE4 cannot be used as a tracking camera.
Example of usage scenes
It can be used in a variety of scenes, such as corporate presentation announcements, live streaming of lectures, and other events and news studios. It is possible to capture a specific target out of several people.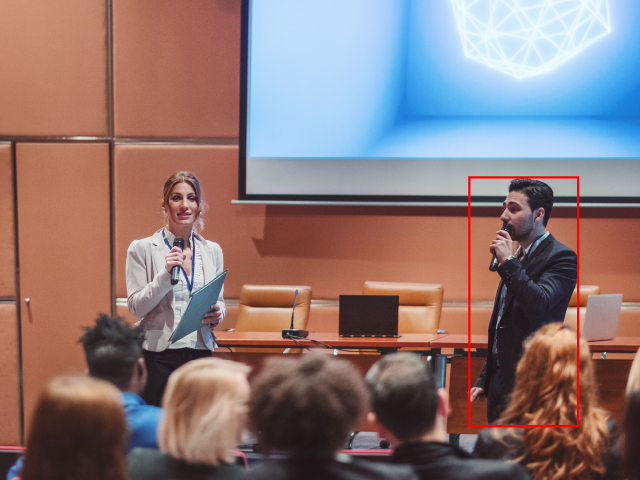 Built-in Auto Tracking Function (AW-UE80/UE50/UE40 only*)
Tracking with simple settings, quickly capturing and tracking the target without missing the subject.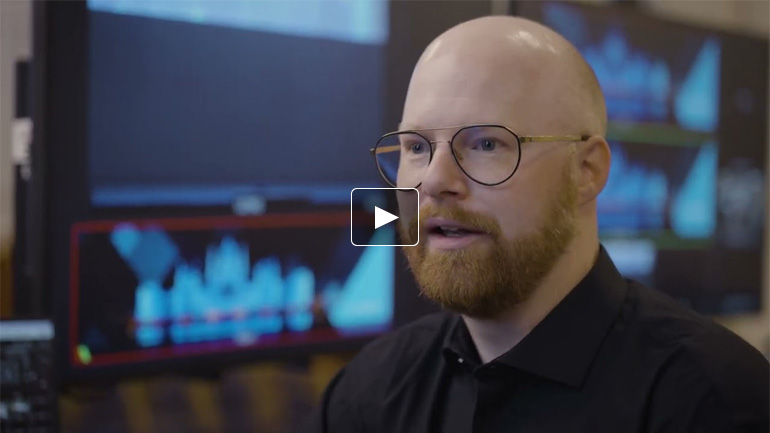 Built-in Auto-Tracking of Panasonic PTZ Cameras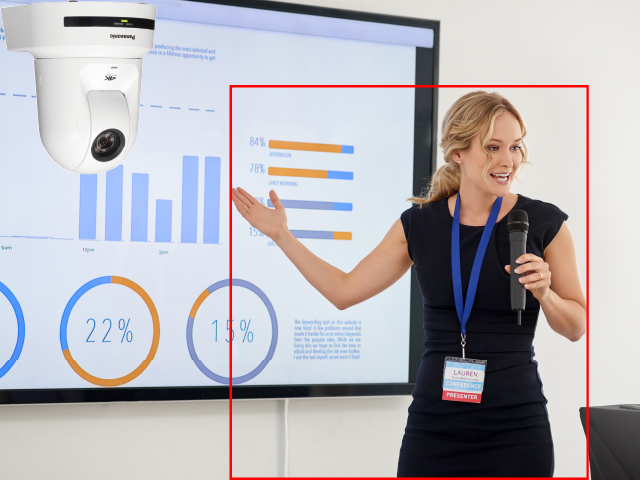 Track a subject automatically with a single camera, without the need to connect to external devices.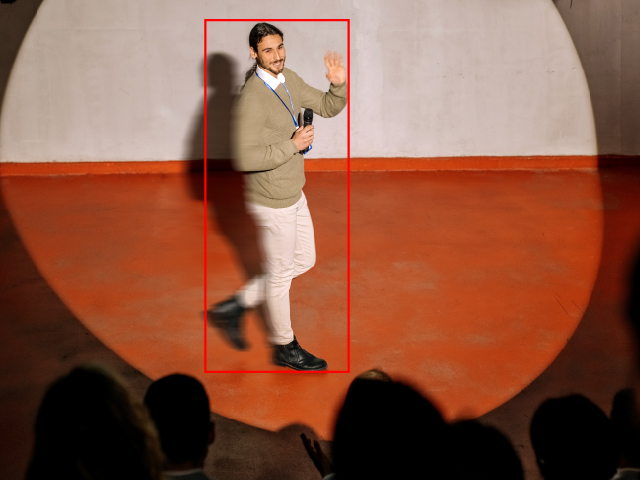 In-camera tracking allows for quick response to movement of the subject, preventing missed shots.
Models with built-in auto tracking function to enable auto tracking with a simple system.
No connection to external equipment is required, allowing easy installation in classrooms and auditoriums.
The in-camera processing allows it to quickly track the subject to avoid missing the shot.
Example of usage scenes
It can be used to deliver lectures and keynote speeches, record internal training sessions, and other situations where a single person is being filmed.
The auto tracking function can be used simply and without complicated wiring, installation, or setting.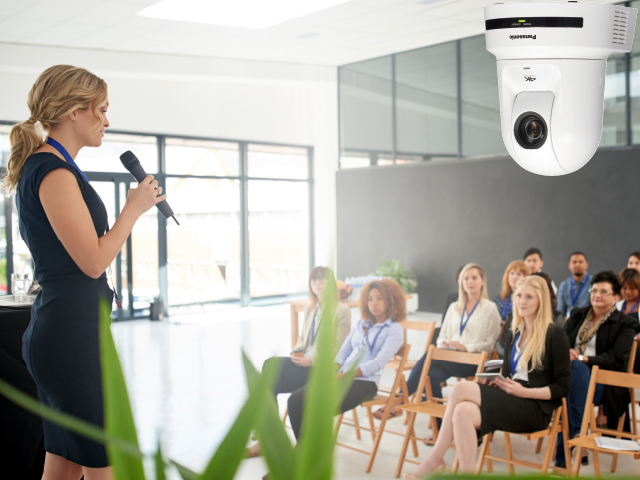 Models supporting built-in auto tracking
Comparison of Auto Tracking Software and Built-in Auto Tracking Functions