High-quality 4K Image
High-Quality 4K 60p/50p*1 Shooting
3840 x 2160 4K output and 59.94p/50p*1 shooting achieve extremely smooth video, even in live sports and other environments containing rapid movement.
Output format
4K
(12G-SDI output/HDMI output)
2160/59.94p, 2160/50p, 2160/29.97p*2, 2160/25p*2, 2160/24p*2, 2160/23.98p*2
HD
(3G-SDI output/HDMI output)
1080/59.94p, 1080/50p, 1080/29.97p*2, 1080/29.97PsF*3, 1080/25p*2, 1080/25PsF*3, 1080/23.98p*4, 1080/24p*2, 1080/23.98p*2, 1080/23.98PsF*3, 1080/59.94i, 1080/50i
720/59.94p, 720/50p
*1: Actual output format is UHD (3840 x 2160) 59.94p/50p
*2: Native output.
*3: Cannot be output from HDMI.
*4: It denotes "1080/23.98p over 59.94i".
1/2.5-type MOS sensor
The camera is equipped with a newly-developed 1/2.5-type 4K MOS sensor and achieves high-resolution video.
Shooting with 24x optical zoom and a 74.1° horizontal angle of view
In addition to 24x optical zoom, the inclusion of i.Zoom enables super resolution zooming of up to 36x in HD Mode and 28x in 4K mode while maintaining high resolution. The 1.4x and 2x digital extender zoom also allows distant subjects to be captured clearly, while the 74.1° horizontal angle of view enables a wide area to be shot from a limited installation space.
[ Optical 24x Zoom Image Quality ]

[ Horizontal 74.1° Shooting Range ]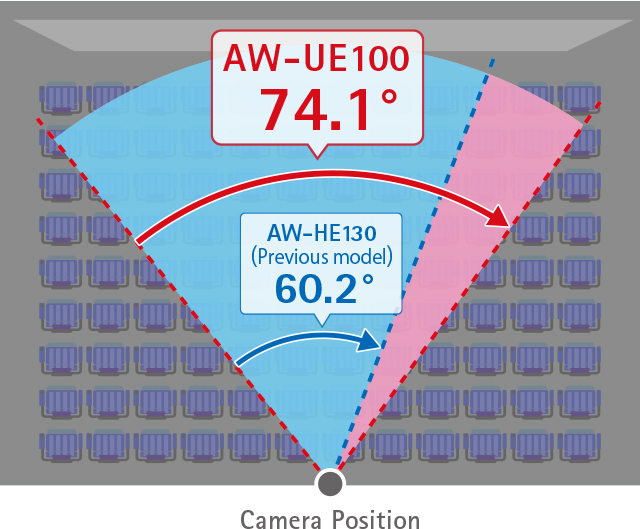 Newly-developed high-precision Direct Drive motor
The inclusion of a Direct Drive motor for the rotating section improves operability, responsiveness and quietness during pan/tilt operations.
operability
A wide range of speeds are supported, from slow movement of 0.08° per second to ultra-high speeds of 180° per second (Fast2 Mode).
responsiveness
Excellent responsiveness allows for accurate camera work, ensuring that the target area is captured.
quietness
A noise level of NC25 or less is ensured, enabling shooting in situations such as Concert hall and Studio where quietness is required.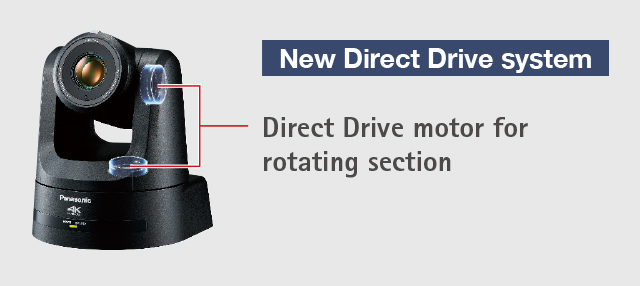 Electronic Image Stabilization (EIS) for roll direction
Electronic Image Stabilization (EIS) for the roll direction has been added in addition to Optical Image Stabilization (OIS). Stable images with reduced blurring can be shot even in locations where special equipment such as a rail systems or camera arms are used.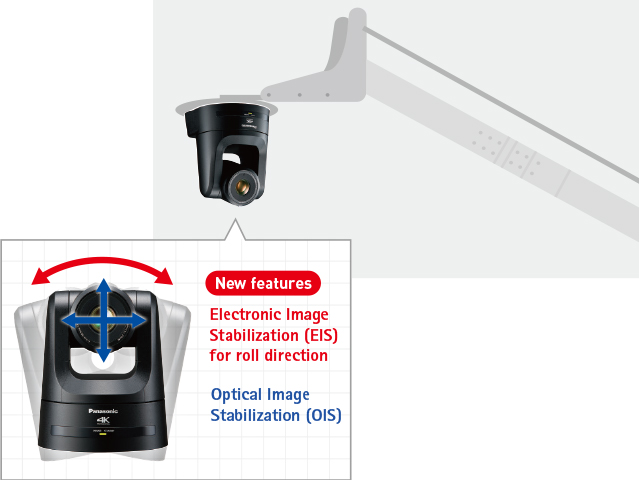 Various Functions
FreeD*1 Support for Construction of AR/VR*2 Systems
Integration with AR/VR systems is available via FreeD-compliant command output. Camera tracking information (pan/tilt/zoom/focus/iris) is output according to a synchronizing signal to facilitate configuration of virtual systems without an encoder.
Image of AR/VR system construction

*1: FreeD is a widely used protocol for transmitting camera tracking information in AR/VR systems.
*2: AR: Augmented Reality. VR: Virtual Reality.

Compatible with IT/IP platform "KAIROS"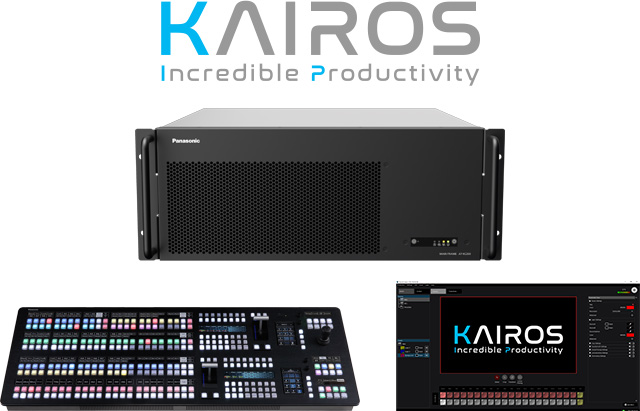 This product is compatible with the IT/IP platform "KAIROS". It is a live video production platform developed based on a new concept and innovative architecture. It incorporates proprietary, ground-breaking software to maximize the CPU and GPU capacities for video processing.
Cropping (+ Zoom) function
A cropped portion of the video can be created simultaneously during output of the full 4K video. Up to three crop areas can be specified, with easy operation using the AW-RP150GJ Remote Camera Controller and the web browser screen. The inclusion of cropping zoom also allows up to 5x zoom of cropped images.
* Picture quality is lower with the cropping zoom.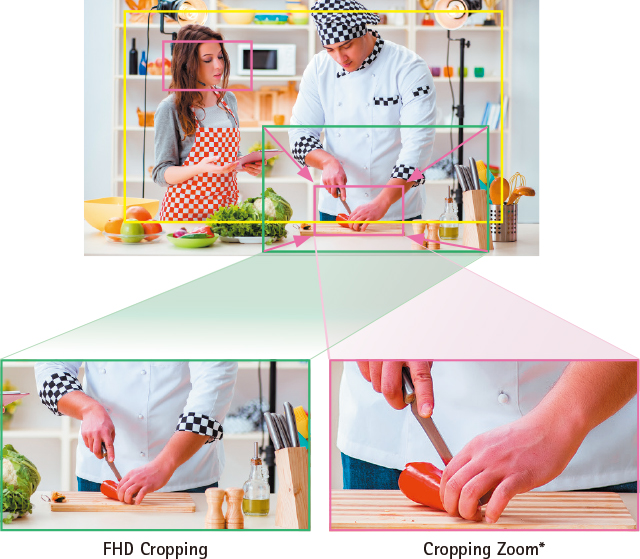 Tally LED Limit
This is a setting that does not turn on the tally lamps of cameras installed on stages at events, especially concert halls and stages and prevents distracting the performers and allows for more natural filming. The tally indicator on the controller lights up so that the cameraperson is aware of which camera's video is being used.
Wide Expandability
High image quality and low latency with high bandwidth NDI® support
High bandwidth NDI® and high efficiency low bandwidth NDI®|HX, which encode and transmit high-quality video in real time, are included. High bandwidth NDI® transmits 4K video at a maximum of 250 Mbps and full HD video at a maximum of 125 Mbps, enabling high-quality, low-latency live video transmission.
System Configuration

* NDI® and NDI® | HX transmission can be performed by adding the optional AV-UHS5M6G NDI I/F unit to Panasonic's AV-UHS500 Live Switcher.
SRT* support for stable video transmission over public lines

SRT, a next-generation video transmission protocol with strong security suitable for unstable network environments, is supported.
Secure
Strong security is ensured by encrypting video data before transmission.
Reliable
The packet loss recovery function automatically detects and retransmits packets lost during transmission, ensuring smooth, stable video transmission.
Transport
The flexible and adaptable buffer management system enables stable video transmission even in network environments with unstable bit rates. Long-distance video transmission over public lines is supported.
* SRT: Secure Reliable Transport.
Video transmission over public lines

Direct Broadcast via RTMP/RTMPS*
RTMP/RTMPS* is supported to enable direct upload of video to live-streaming services such as YouTube Live and Facebook Live. This means a live stream can be broadcast directly from the camera.

* RTMP: Real-Time Messaging Protocol. RTMPS: Real-Time Messaging Protocol Secure.