Ultra Lightweight,Ultra High Speed and Ultra High Quality
AVC-ULTRA*1 and Network Operation*2 Supported. Camera Adaptor Function Built-In.
Shoulder-Type Camera Recorder Provides Easy,Cost Efficient Broadcast Quality and Functions.
The shoulder-type AJ-PX380G Camera Recorder raises broadcast picture quality and compact, lightweight mobility while adding functions that enhance network-based workflows and enabling simple, excellent cost performance operation. Its 1/3-type 2.2-megapixel 3MOS sensors achieve high sensitivity, high S/N, and a wide dynamic range. AVC-ULTRA*1 codecs let you select the most suitable bit rate for your purpose, from high-quality 1080/60p (50p) 4:2:2 10 bit recording to low-rate streaming and FTP transmission, for broadcast-level image acquisition. Network functions support wired LAN, wireless LAN, and 4G/LTE connectivity. A built-in Camera Adaptor function allows simple base station connection with two BNC cables for SDI input. All of this allows the AJ-PX380G to provide simple and cost efficient solution to a wide range of applications, from news gathering to relay, live streaming and studio camera operation.
*1: AVC-ULTRA is the name of Panasonic's professional video codec family. The AJ-PX380G does not support all of the formats included in the AVC-ULTRA family.
*2: For details, refer to "Notes Regarding Network Connections".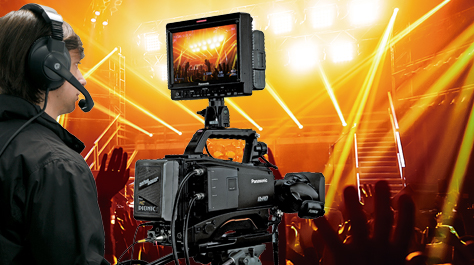 Anton/Bauer
Dionic Battery

Bound Cable for Camera Studio System
(Between AG-BS300* and AG-CA300G*)

<Canare.>

V2PCS25-5CFWCE-SF-SC
(25 meters/82 feet)
V2PCS50-5CFWCE-SF-SC
(50 meters/164 feet)
V2PCS100-5CFWCE-SF-SC
(100 meters/328 feet)

Power Cable for Camera Studio System
(Between AG-BS300* and AG-CA300G*)

<Canare.>

DC50V10-CE01PS-SC
(50 meters/164 feet)
DC100V10-CE01PS-SC
(100 meters/328 feet)

Memory Card SDXC UHS-II V90 COBALT 300R

PGSD64GBCK** (64GB)
PGSD128GBCK** (128GB)

<ProGrade Digital>
Anton/Bauer
Dionic Battery

Bound Cable for Camera Studio System
(Between AG-BS300* and AG-CA300G*)

<Canare.>

V2PCS25-5CFWCE-SF-SC
(25 meters/82 feet)
V2PCS50-5CFWCE-SF-SC
(50 meters/164 feet)
V2PCS100-5CFWCE-SF-SC
(100 meters/328 feet)

Power Cable for Camera Studio System
(Between AG-BS300* and AG-CA300G*)

<Canare.>

DC50V10-CE01PS-SC
(50 meters/164 feet)
DC100V10-CE01PS-SC
(100 meters/328 feet)

Memory Card SDXC UHS-II V90 COBALT 300R

PGSD64GBCK** (64GB)
PGSD128GBCK** (128GB)

<ProGrade Digital>
SUPPORTS