2/3-type Shoulder-Type HD Camera-Recorder with Three Image Sensors.
The world's lightest*1 2/3 type shoulder-type HD camera-recorder with three image sensors revolutionizes news gathering with high mobility, superb picture quality and network functions.
The AJ-PX800G is a new-generation camera-recorder for newsgathering. It is network connectable and provides superb picture quality, high mobility and excellent costperformance. Weighing only about 2.8 kg (main unit), the AJ-PX800G is the world's lightest*1 shoulder-type camera-recorder equipped with three MOS image sensors for broadcasting applications. It also supports AVC-ULTRA multi-codec recording.*2 The picture quality and recorded data rate can be selected from one of the AVC-ULTRA family of codec's (AVC-Intra/AVC-LongG) according to the application. Along with a Low-rate AVC-Proxy dual-codec recording ideal for network-based operation and off-line editing. Built-in network functions support wired LAN, wireless LAN*3 and 4G/LTE network connections,*3 enabling on-site preview, uploading data to a server and streaming. The AJ-PX800G is a single-package solution for virtually all broadcasting needs.
*1: For a 2/3-type shoulder-type HD camera-recorder with three sensors (as of June 2015).
*2: Not all AVC-ULTRA formats will be supported.
*3: For details, refer to "Notes Regarding Network Connections".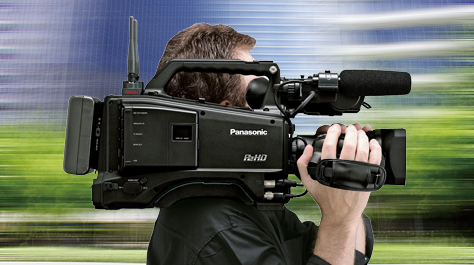 Anton/Bauer
Dionic Battery

Memory Card SDXC UHS-II V90 COBALT 300R

PGSD64GBCK** (64GB)
PGSD128GBCK** (128GB)

<ProGrade Digital>
Anton/Bauer
Dionic Battery

Memory Card SDXC UHS-II V90 COBALT 300R

PGSD64GBCK** (64GB)
PGSD128GBCK** (128GB)

<ProGrade Digital>
SUPPORTS