Provides stable hybrid environment for connecting online and offline

Since it has become difficult to provide information in person to a large group of people in a seminar, briefing session, training or classroom, demand for online communication is on the rise. Online meetings, classes, etc. provide some benefits such as "anytime, anywhere participation," but there are some drawbacks as well. For example, the participants may not feel much involvement or satisfaction, and the images may become disturbed to degrade the viewing experience. In addition, to prevent the leakage of company information or school information, security measures must be taken. The AW-UE50/UE40 PTZ camera can achieve stable and safe streaming of videos with the ambiences intact.
4K resolution, wide angle and high-magnification zoom for delivering "the ambience of hall."
The high-quality images captured by the 4K, wide-angle camera clearly show the ambiences of classrooms and halls as well as the facial expressions of teachers and speakers on the podiums, thus conveying the ambiences and atmospheres through the streaming videos. Furthermore, the zoom function clearly captures the important points on a slide or blackboard for easy-to-understand classroom lessons or business presentations. By utilizing the wide angle of up to 74.1° and the zoom function, it is possible to prevent missing important scenes in classroom teaching or business meeting with a small number of camera units. The AW-UE50/UE40 can be used for a wide range of applications regardless of the size of the room or hall.
■Image captured by 4K camera

■Example of wide 74.1° video shooting range

Quickly capture the speaker with the built-in auto tracking function
The camera's built-in auto-tracking function allows capturing a moving presenter and speaker. The camera work follows the speaker without the need for detailed operation by the operator, allowing for realistic video shooting at any time.
There are two ways to use the auto tracking function; a built-in auto tracking and an external software-based auto tracking. It is possible to take advantage of the features of each function and use them according to the intended use.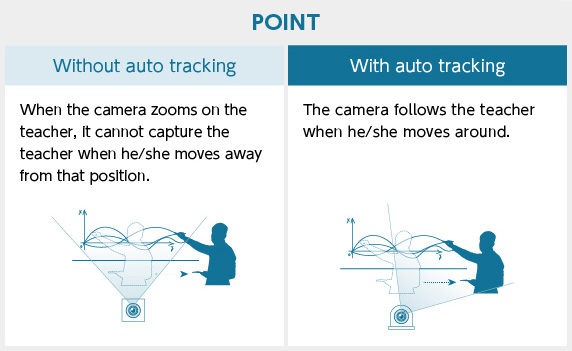 Secure and stable streaming protocol for reduced risk of communication trouble.

The AW-UE50/UE40 supports SRT*1, a next-generation video transport protocol which works well even with an unstable network environment and which provides robust security. It can also minimize risks such as information leakage, so it can be used safely for any video content.
*1: Abbreviation for Secure Reliable Transport
< Key points of SRT >
Security

Encrypts video data before the transmission to assure high security.
Stability

The packet loss recovery function automatically detects packets lost during the transmission and resends them to achieve stable, disturbance-free video transmission.
Supports transmission over public line

The flexible and highly adaptable buffer management system assures stable video transmission even in a network environment with an unstable bit rate. Public internet can be used for a long-distance video transmission.
Smooth playback of high-image-quality videos.
The AW-UE50/UE40 can be upgraded to support NDI®|HX* version 2 that can transmit high-quality video via IP. NDI®|HX* version 2 achieves efficient video transmission with a limited bandwidth.
Since the video source is accessible from any devices on the same network, even devices with unknown IP addresses are automatically recognized. This allows for a flexible video production flow at the shooting site.
After purchasing an NDI®|HX license, the license can be activated using the Activation function of the free software, EasyIP Setup Tool Plus (supported from Ver. 1.3.6 or later).
* NDI® is a new protocol developed by NewTek, Inc. that supports IP video production workflow.
* NDI® is a registered trademark of NewTek, Inc. in the United States and other countries.
* In this instance, NDI®|HX is used to indicate high efficiency low bandwidth NDI®|HX.
* For more information, contact a Panasonic sales representative.
* To use NDI®, the driver must be installed and activated.
Low-capacity, low-cost network equipment and cables can be used.
The AW-UE50/UE40 can replace an existing Panasonic PTZ camera.

NDI®|HX* version 2
Compression system
H.264 base (high compression)
Bit rate
FHD 60p
4~24Mbps
Network equipment
(cables, routers, etc.)
Ordinary gigabit Ethernet environment
Standard 1-Gbps Ethernet cable
* Here, NDI®|HX denotes high-efficiency low-bandwidth NDI®|HX.
* In the NDI®|HX mode, 4K video signals cannot be output.
Unit size and quietness for flexible use at any video shooting sites

PTZ cameras are widely used in a broad range of applications as online streaming of events is becoming increasingly diversified. There are various issues to consider when shooting an event video, such as the hall size, environmental noise level and camera locations. Since the AW-UE50/UE40 is quiet and small, it can be used in any halls and for any applications.
Compact dome-shape design blends in with any ambiences. Light weight and small size allow flexible installation.
The gentle dome-shape design makes the camera movements unnoticeable, thus allowing video shooting in a natural condition without giving an oppressive feeling. The compact unit weighs only about 1.8 kg for a space-saving installation. The AW-UE50/UE40 can directly replace an existing Panasonic PTZ camera.

Quiet enough to allow use in any places and for any applications.
Since the AW-UE50/UE40 operates very quietly, it can be used in a meeting held in a noiseless conference hall or in a class held in a spacious lecture room without worrying about the operating sound of the camera unit. The new direct-drive motor is quiet during panning (horizontal movement) and tilting (vertical movement) so the camera operation does not interfere with important meetings and lectures.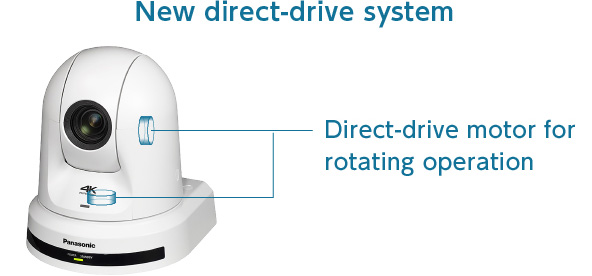 < NC (Noise Criteria) value = Noise level >

Image stabilizer for stable video shooting.
Even when the camera unit is mounted on an unstable place, the image stabilizer always assures clear images. The Optical Image Stabilizer (OIS) makes fine adjustment of the lens by smoothly moving the camera unit, thus minimizing image shakes and capturing stable, high-quality images.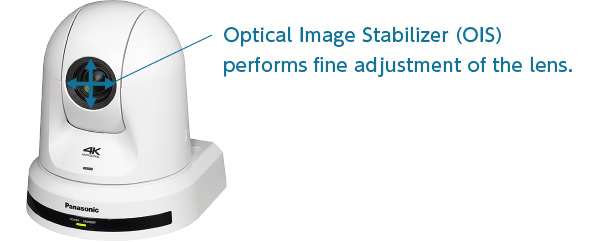 Tally LED Limit
This is a setting that does not turn on the tally lamps of cameras installed on stages at events, especially concert halls and stages and prevents distracting the performers and allows for more natural filming. The tally indicator on the controller lights up so that the cameraperson is aware of which camera's video is being used.
Excellent system flexibility to achieve smart wiring and smooth operation

Ease of preparing and setting up the system is an important consideration in initiating an online video streaming. Multiple AW-UE50/UE40 PTZ camera units can be operated from a single controller, so wiring is simple. The AW-UE50/UE40 can be linked easily with a streaming platform or online conferencing system. The product is easy to operate even for people who are unfamiliar with the system operation.
Easy to install and operate even for inexperienced staff or small staff.
The AW-UE50/UE40 can be connected to video devices via network, so a single LAN cable can transmit the video, audio and control signals as well as the power supply. This not only minimizes the risk of wiring trouble, but also contributes to the reduction of the time and effort for setting up and removing the equipment. Furthermore, the AW-UE50/UE40 can reduce the labor expenses in video shooting because a single Panasonic remote camera controller can control up to 200 camera units. The AW-UE50/UE40 can be operated from a joystick-equipped remote camera controller, infrared remote controller or PC, so even people unfamiliar with the equipment operation can easily operate the AW-UE50/UE40.
Wiring example

* PoE: Abbreviation for Power over Ethernet. It refers to the supply of electricity through LAN cable. PoE offers a number of benefits. Since the power supply is received through the LAN cable, the camera unit can be installed in a place where It is difficult to obtain power supply, such as outdoors or on a celling. It also results in wire-saving installation. PoE+ allows the supply of greater electric power than PoE.
Example of use: The teacher operates the camera while teaching.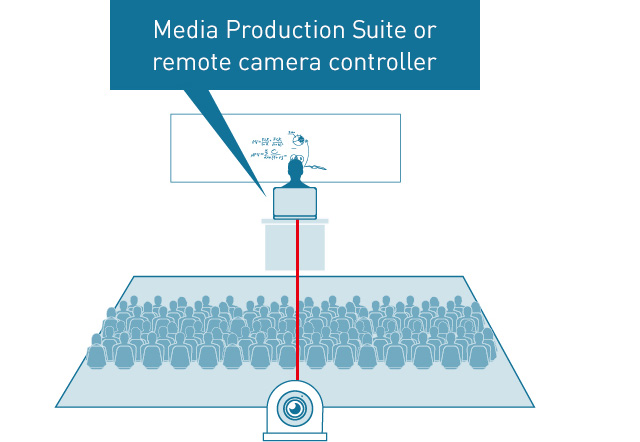 Single PC or controller can manage and control multiple cameras.
By using the free software, PTZ Control Center, or by connecting a Panasonic remote camera controller, multiple PTZ camera units can be controlled all at once from the single controller for easy management and control.
When using multiple cameras in one room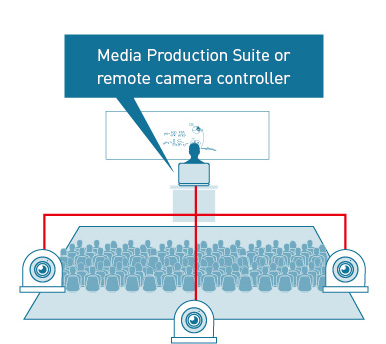 When streaming a video simultaneously to multiple distant classrooms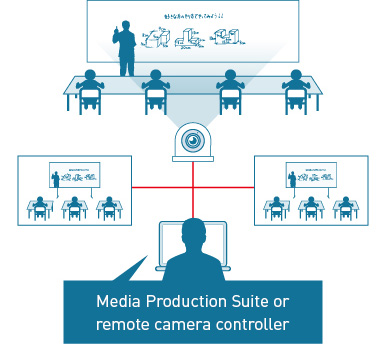 When operating and managing cameras in multiple classrooms from the control room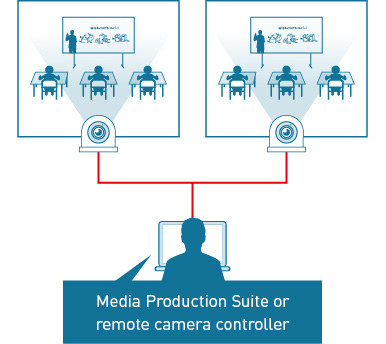 Use as a USB camera.
The AW-UE50/UE40 supports UVC so it can be used with an existing USB-based system. A single LAN cable can be used to connect multiple camera units to a PC, allowing wire-saving installation and configuration of a simple and compact system. By using the free software, PTZ Virtual USB Driver, the AW-UE50/UE40 can be used as a Web camera linkable to an online conference service via LAN cable even when the USB cable cannot reach the camera installation location such as a ceiling.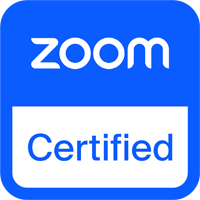 With Zoom certification and a dedicated mode (USB: Video Conference), the AW-UE50W/K and AW-UE40W/K are ideal for web conferencing.
Not all features/functionality are supported currently but will be in the coming months.
When using as a USB camera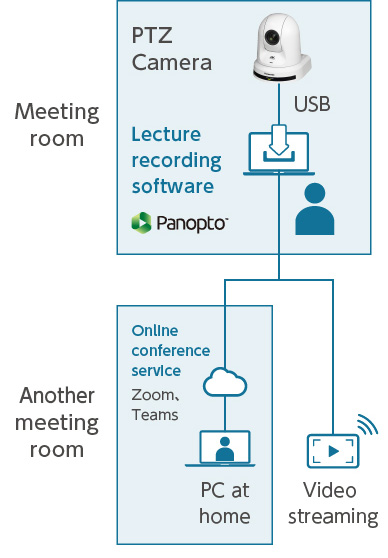 When using in link with lecture recording software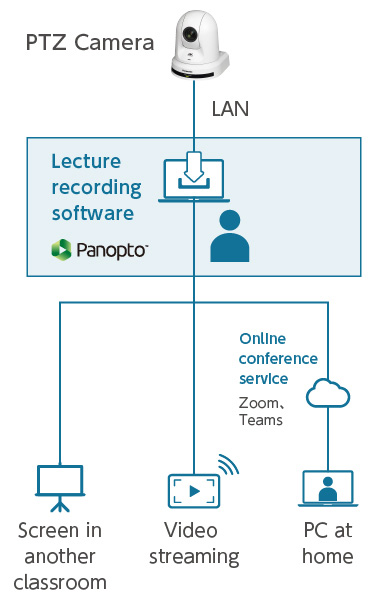 When using ceiling-mounted camera as a Web camera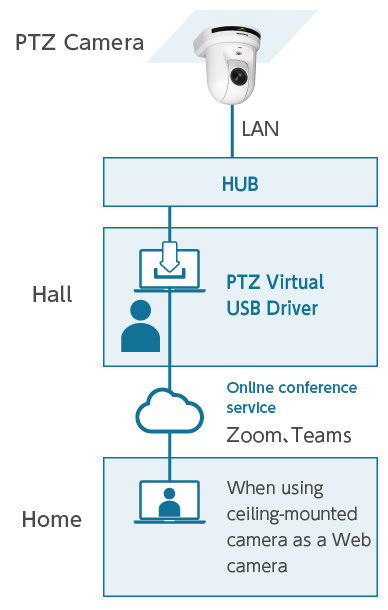 When using multiple PTZ cameras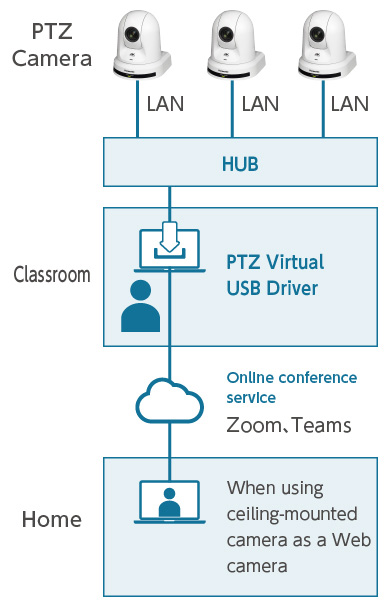 Direct upload of videos to video livestreaming services.
The AW-UE50/UE40 supports RTMP/RTMPS*1 to enable direct upload of videos to video livestreaming services such as YouTube and Facebook Live. A video can be uploaded directly from the camera unit for a direct video streaming.
*1: RTMP: Abbreviation for Real-Time Messaging Protocol, RTMPS: Abbreviation for Real-Time Management Protocol Secure.
*2: PC is required for entering connection settings in the video streaming server.

Difference between AW-UE50W/K and AW-UE40W/K
The difference between the AW-UE50W/K and the AW-UE40W/K is that the AW-UE50W/K has a 3G-SDI terminal and the AW-UE40W/K does not.
■AW-UE50 rear panel terminals

■AW-UE40 rear panel terminals

Compatible with IT/IP platform "KAIROS"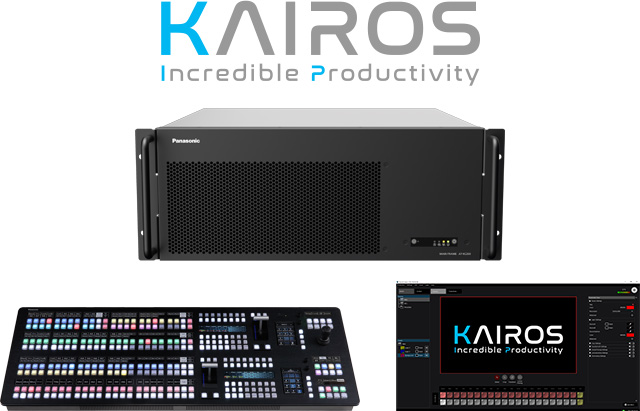 This product is compatible with the IT/IP platform "KAIROS". It is a live video production platform developed based on a new concept and innovative architecture. It incorporates proprietary, ground-breaking software to maximize the CPU and GPU capacities for video processing.