Display of the clips in the thumbnail screen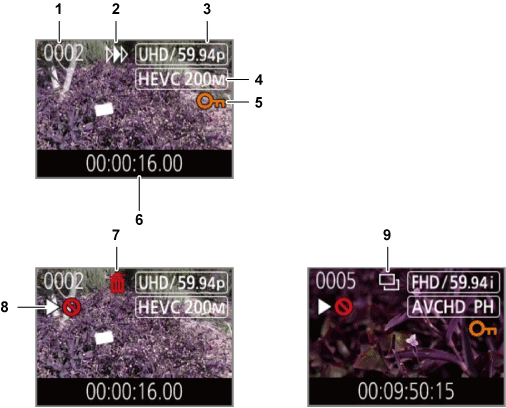 Thumbnail number

Displays the thumbnail number in [0001] to [9999].

Normally, the number assigned to the clip in the order of recording is displayed.

Resume play status

Number of recording pixels, system frequency

Recording file format, recording codec

Protection status of the clip

This is displayed when the clip is protected.

Standard time code/clip name

The first eight digits for the time code when starting shooting of a clip or the file name of the clip are displayed in alphanumeric.

The information to display is set in the [THUMBNAIL] menu → [DISPLAY] → [DATA].

Delete selection status

Clip that cannot be played back

This is displayed when the clip cannot be played back with the camera because the system frequency is different, etc.

Copy selection status

This is displayed when the clip is selected.