High Quality Video Shooting
Developed 1/2.3-type MOS Sensor
Equipped with a developed 1/2.3-type MOS sensor and DSP (Digital Signal Processor) for high sensitivity and high resolution.
High Performance Optical 22x Zoom Lens/Super Resolution 30x Zoom
In addition to a 22x optical zoom, the AW-HN38HW/HK and AW-HE38HW/HK can zoom up to 30x while maintaining high resolution thanks to Super Resolution technology. It also features a 16x digital zoom* and a 1.4x digital extender, which enable the AW-HN38HW/HK and AW-HE38HW/HK to shoot in large conference halls and classrooms.

* Picture quality is lower with the digital zoom.
Equipped with High Dynamic Range (HDR) Mode
In addition to conventional Dynamic Range Stretch (DRS) and Digital Noise Reduction (DNR), the AW-HN38HW/HK and AW-HE38HW/HK are newly equipped with High Dynamic Range (HDR) mode. When shooting and synthesizing two images with differing exposure times, the AW-HN38HW/HK and AW-HE38HW/HK can create video with high visibility that corrects for halation and black defects even under backlit conditions.

Outputs Still Image During Preset Movements; Supports One-Camera Operations
The new Freeze During Preset function enables to freeze the video during preset playback. The immediately preceding still image is output during preset movements so that the swiveling movement is not displayed, making operations possible with one camera.
With Freeze During Preset function OFF and ON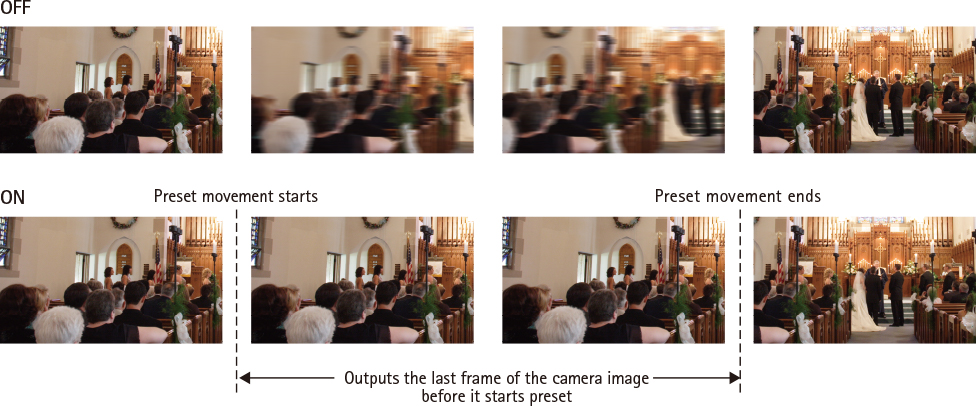 Audio Input Function
The AW-HN38HW/HK and AW-HE38HW/HK also support audio input, embedding and encoding. Audio output to IP is also supported. The ALC (Audio Automatic Level Control) in the original AW-HN38HW/HK and AW-HE38HW/HK can be switched ON/OFF and an equalizer function can be used. By reducing low-frequency sound from air conditioners, projectors, and other devices, it is possible to emphasize and increase the clarity of the spoken words.
Equipped with a JPEG Image Saving Function*
Equipped with a JPEG Image Saving function that enables camera video to be saved, played back and deleted on a microSD card as still JPEG images.
* Use may require a software version update.
Flexible IP Control
Supporting PoE+* for Lower Installation Costs
By connecting network devices that support the IEEE802.3at PoE+ standard, power can be supplied via LAN cable. Since it is not necessary to install a power supply or even a local AC outlet, installation costs can be significantly reduced.

* Abbreviation of Power over Ethernet Plus.
Flexible IP Control Architecture Simplifies System Design and Operation*
Up to 100 x AW-HN38HW/HK and AW-HE38HW/HK cameras can be controlled via IP from a single AW-RP120G/RP50 or PC. The AW-HN38HW/HK and AW-HE38HW/HK can also be simultaneously controlled by up to five AW-RP120G/RP50's via IP.
NDI | HX Compatibility for Excellent Video Streaming Quality
The AW-HN38HW/HK is NDI | HX built-in model and AW-HE38HW/HK can be upgraded to NDI | HX with purchasing a license from the NewTek website. Highly efficient NDI | HX compatibilit y enables excellent broadcast streaming by encoding and transmitting high-quality video in real time. This technology eliminates the need for IP decoders, allowing input to be sent directly to the switcher.

*1: Power over Ethernet Plus, IEEE 802.3at
* Contact your local Panasonic vendor for further information.
* NDI® is a new protocol developed by NewTek, Inc. that supports IP video production workflow.
* NDI® is a registered trademark of NewTek, Inc. in the United States and other countries.
* In this instance, NDI®|HX is used to indicate high efficiency low bandwidth NDI®|HX.
Various Functions
Exceptional Pan-tilt Performance for Smooth Shooting Over a Wide Area*
The pan range of ±175° and the tilt range of -30° to +90° cover a wide shooting area*. Pan and tilt operate at a maximum speed of 90°/second and respond quickly to remote control operation. They operate quietly at a sound level of NC35 or lower.

* Depending on the position of the pan and tilt, the unit itself may be refiected in the image.
Other Functions
Preset memory up to 100 positions.
Functions such as freeze during preset, digital extender zoom and color temperature settings can be assigned to the user buttons on Panasonic controllers.
Equipped with RS422 remote terminal; up to five units can be controlled via serial control from a controller.
Equipped with RS232C remote terminal (standard serial communication support). Up to seven units can be controlled via daisy chain connection.
Up to four units can be operated with a wireless remote controller (AW-RM50G sold separately).
Easy installation thanks to use of turn-lock mechanism.