Left side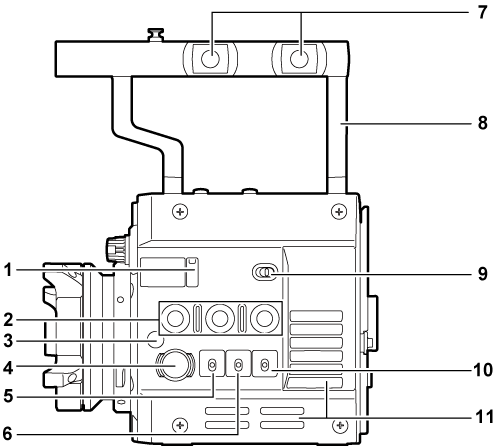 Lens flange back adjustment hole

Used when adjusting the lens flange back.

USER buttons (<1>/<2>/<3>)

User-selected functions can be assigned to each button. Pressing a button performs the assigned function.

Focus hook/focus mark < >

Indicate the focal plane of the MOS sensor.

<REC> button

Press this button to start recording. Press this button again to stop recording. The button lights up in red during recording.

<SHUTTER> switch

Switch for changing the electronic shutter.

<EI> switch

Switch for changing the EXPOSURE INDEX (gain).

Accessory mounting holes

For attaching accessories.

Handle

<LOCK> switch

Disables the operation of the camera module buttons and switches. (except the <REC> button)

Keep this in the <LOCK> position to prevent incorrect operation when moving the camera, etc.

<WB> switch

Switch for changing the white balance.

Fan inlet

Fan inlet for dissipating heat. Do not block this when the camera is in use.