Shooting
For shooting, use the following steps.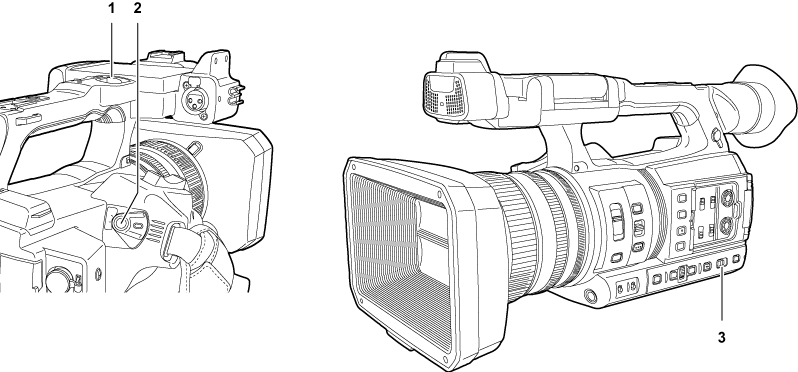 REC button (on the handle)

REC button (on the grip)

<AUTO/MANUAL> switch
Set the video settings and the audio input.
Before shooting, the followings must be set or adjusted.

Image settings for the brightness function (iris, gain, shutter) and the white balance adjustment function, etc.

Audio input settings for audio recording.

Adjusting audio recording level
Select shooting mode with the <AUTO/MANUAL> switch.
<AUTO>: auto mode
[A] is displayed at the upper part of the viewfinder and LCD monitor.

Focus, iris, gain, shutter, and white balance are automatically adjusted.

You can set the operations specified for the auto mode in the [CAMERA] menu → [AUTO SW].
<MANUAL>: manual mode
Start the recording by pressing the REC button.
One REC button is located on both the handle and the grip.

The tally lamp is illuminated in red while recording.
Press the REC button again to stop.
Check videos recorded.
After recording ends, pressing the <REC CHECK> button automatically plays back approximately the last three seconds of the last recorded clip.
In this way, you can check whether video has been recorded properly.
Returns to recording standby after checking.
REC check will not operate in following cases.
When the power is turned ON/OFF

When restarted

When the <THUMBNAIL> button is pressed

When the memory card is inserted/ejected

When formatted the memory card

When the card slot to record is switched by pressing the USER button to which [SLOT SEL] is assigned or by touching the USER button icon

When switched to [CARD READER MODE] or [SERVICE MODE]

When the [RECORDING] menu → [2 SLOTS FUNC.] → [SIMUL REC]/[BACKGR REC] is set

When either of the following settings are changed

[SYSTEM] menu → [FREQUENCY]

[SYSTEM] menu → [FILE FORMAT]

[SYSTEM] menu → [REC FORMAT]

[RECORDING] menu → [2 SLOTS FUNC.]