CCU menu
MAINTENANCE
NETWORK
NETWORK
This is the selection screen for the NETWORK menu.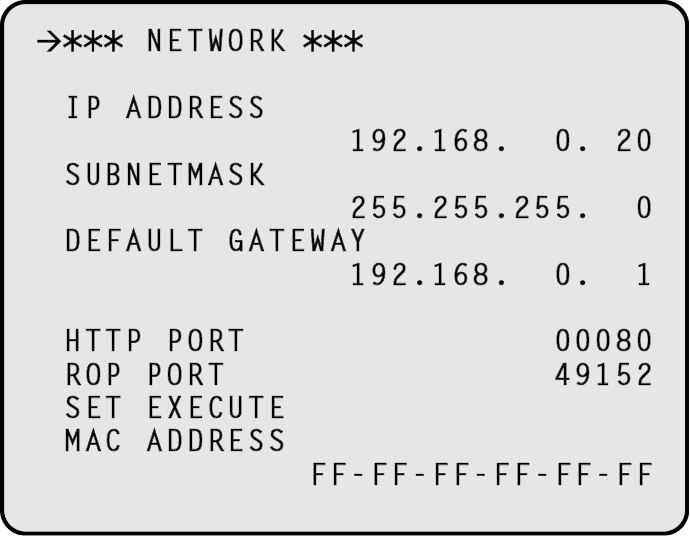 ___ indicates factory default settings.
Item

Setting value

Setting details

IP ADDRESS

(Factory setting: 192.168.0.20)

Set the IP address.

Select and set each set of three digits with the cursor.

SUBNETMASK

(Factory setting: 255.255.255.0)

Set the subnet mask.

DEFAULT GATEWAY

(Factory setting: 192.168.0.1)

Set the default gateway.

HTTP PORT

00001 to 00080 to 65535

Set the port number used for web access.

ROP PORT

49152 to

49200 to 49299

Set the port number used for connecting to the ROP.

SET EXECUTE

-

When you press the [SELECT] button, [NETWORK SET EXECUTE NO/YES] appears. Select [YES] to apply the configured [NETWORK] information to the unit.

If this operation is not performed, the changed [NETWORK] settings will not be applied. In addition, if you exit the menu without performing this operation, the settings will return to their original values.

MAC ADDRESS

Display only

Displays the MAC address.