Rear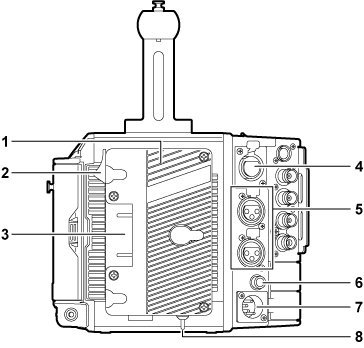 Battery holder

For mounting Anton/Bauer batteries.

Battery release lever

Pull this battery release lever down to release the battery.

Battery contact terminals

Contact terminals for the battery.

<INPUT 1/2> terminal

Terminal for connecting a microphone.

<INPUT 3>/<INPUT 4> terminal

Connect the audio equipment or the microphone.

<DC OUT/RS> terminal

Terminal for DC 12 V output and REC trigger input. The DC output provides a maximum current of 1.0 A.

<DC IN> terminal

Input terminal for connecting an external DC power supply.

<LIGHT CONTROL> switch

Control switch when light is connected to the light output terminal.