[CINE]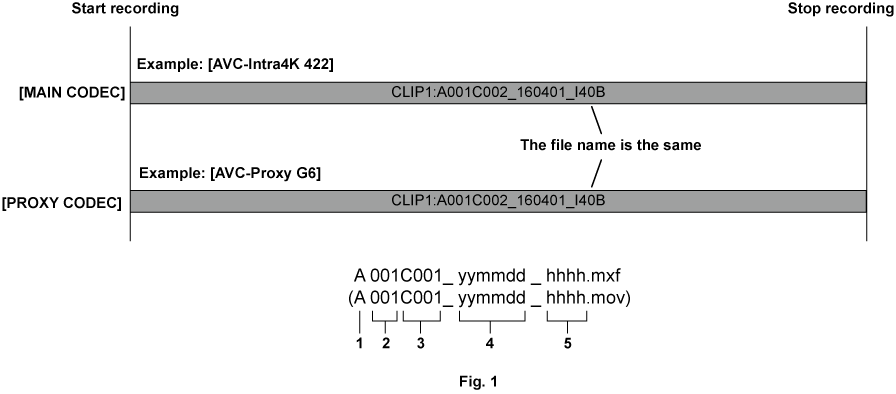 CAM INDEX

REEL number

Clip number

Date

Hashtag to generate from the serial number of the recording module

When the file name style is set to [CINE], the file name for recorded clips is composed of CAM INDEX, the REEL number, and the clip number. (Fig. 1)
F to indicate CAM INDEX, the REEL number, and the clip number to include in the file name is displayed to the left of the REEL number and clip number icons of the HOME screen. (Fig. 2)
[USER CLIP NAME] is set to [TYPE3] and cannot be changed.
In the following case, the same operation as when set to [P2] is performed regardless of the settings of [FILE NAME STYLE].
When the P2 memory card or the SDHC memory card is included as recording media

The file name style set in [CINE] is only supported for expressP2 memory cards and SDXC memory cards. Insert memory cards that are supported into the main slot and sub slot.
It will be as follows when the memory card cannot operate as set in [CINE] for some reason.
is displayed on the HOME screen.

M to indicate the recording of only metadata is displayed on the left side of the REEL number and clip number icons. (Fig. 3)

One of the following is displayed for the [CINE STYLE DISABLED!] warning indicator when the [DIAGNOSTICS] screen is opened from the INFO screen.

[expressP2 REQUIRED]: Insert an expressP2 memory card in the main slot.

[SDXC CARD REQUIRED]: Insert an SDXC memory card in the sub slot.
It will be as follows when the name of the recording file already has a file with the same name on the recording media.
The clip number of the file name may overlap on the sub slot when a clip recorded simultaneously on the sub slot is not deleted even if the clip on the main slot is deleted.
The file name that should be applied is recorded to the metadata even when it is recorded using a file name style set to [P2]. The file name style of the [CINE] setting can be changed and read into a personal computer when the rename copy function of specialized software P2 Viewer Plus is used.